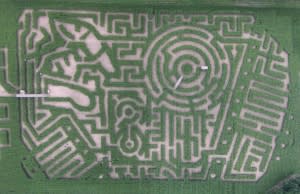 Macedon, N.Y. - Smile! The theme for the 2018 Amazing Maize Maze celebrates not only the 25th anniversary of Long Acre Farms but the 130th anniversary of the Kodak Camera.  During it's summer preview weekend on August 25th and 26th guests will be asked to smile and capture a memory when they exit maze.
"Since we are located so close to Rochester we are excited to celebrate the Kodak camera along with our own anniversary," states Joan Allen, owner. "We have enjoyed providing guests with a place to create so many happy memories, so it seemed a natural fit to highlight this in the maze this year"
The 5 acre corn field will depict a camera and as guests navigate the paths they will learn some facts about Kodak and its founder George Eastman.  The mazers are encouraged to collect pieces of the maze map puzzle located in mailboxes throughout the maze.  These pieces can be tapped on their gameboard and will actually build a picture of the whole maze that the guest can then use to find their way out.  The average time in the maze can vary from 30 minutes to over 2 hours depending on the luck and the skill of the maze teams.  "We are happy with the complexity of the maze," states owner Doug Allen.  "We like to give people a challenge so they will return each year to try and better their time, and yet at the same time be able to give clues to the guests who want to shorten their time and move on to other activities."
The Amazing Maize Maze will be open on August 25th and 26th for a sneak peek from 10am – 4pm and then will not re-open until Sept 15th.  "The corn is in great shape this year," adds Joan Allen, "so if you really want a good challenge, August is the best time to try if before the corn begins to dry down."  Admission tickets are $12 and include Amazing Maize Maze, Animal Track Maze, Back 40 and Mini Jump Pad.  For every ticket purchased guests will receive a free Bounce-back return ticket to be used in the fall. For more information, directions and a calendar of events visit www.longacrefarms.com or call (315)986-4202.
###
Contact:  Joan Allen / Sarah Henning 315-986-4202