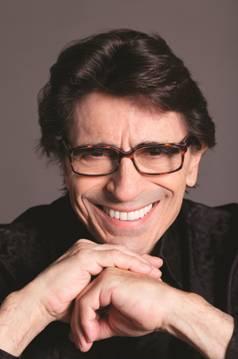 Sat, July 13 at SPAC
Saratoga Springs, NY -
Edward Villella, one of the most celebrated American dancers in history, will be a special guest at the "The Ruby Ball" Ballet Gala at Saratoga Performing Arts Center on Saturday, July 13. The Gala, a fundraiser to support New York City Ballet's Saratoga season, will feature a performance of Balanchine's Rubies, a role that Villella originated in 1967 while at New York City Ballet. "Edward Villella was an American ballet superstar. A magnetic presence on the New York City Ballet stage during the Balanchine era, his powerful performances were a game-changer for male dancers," said White. "Even after retiring from the stage, he continued to be a trailblazer, investing his vision and energy into founding and building Miami City Ballet into one of the premier ballet companies in the world. To say that we are honored and excited he will be joining us for the Gala is a tremendous understatement." "It will be both a pleasure and an honor to return to Saratoga Performing Arts Center for the Ballet Gala. The summers I spent dancing with New York City Ballet at SPAC are some of the fondest from my dancing career," said Edward Villella. "SPAC's beautiful setting can be inspiring for a dancer, and it certainly was for me."  "Adding to my anticipation is the opportunity to experience NYCB's performance of Balanchine's magnificent Rubies.  Mr. B infused this work with athleticism, energy and speed which made it thrilling to perform as a dancer; it remains one of my favorite Balanchine ballets. I am very excited about returning to Saratoga and being part of this very special evening at SPAC," he added. Mr. Villella and former New York City Ballet dancer Patricia McBride originated the lead roles in Balanchine's Rubies the second movement of the full-length, plotless ballet "Jewels." Rubies, bookended by the opening movement Emeralds and the final movement Diamonds, is a vibrant, high-energy ballet and the most popular of the three sections, often performed independently of the other two. Balanchine often cast Villella and McBride as onstage partners in his ballets. Patricia McBride, Associate Artistic Director of the North Carolina Dance Theatre, is serving as Honorary Chair of the Gala, and will send a message to be read onstage.   Born in Bayside, New York in 1936, Edward Villella entered the School of American Ballet at age 10, but interrupted his advanced dance training to complete his academic studies. After graduating from the New York Maritime Academy, he returned to SAB in 1955 and in 1957 was invited to join New York City Ballet where Balanchine quickly promoted him to soloist and in 1960, to principal dancer. He originated the male lead in many important ballets in the NYCB repertoire including Tarantella, Symphony in Three Movements, Dances at a Gathering, Watermill and A Midsummer Night's Dream. Villella danced at SPAC from its very season in 1966 and throughout the 60s and 70s; he was a favorite with SPAC audiences. In 1966, SPAC staged the world premiere of Narkissos, a ballet Villella choreographed. Recently relocated back to New York, Villella is now teaching, writing and speaking on dance.  A National Medal of Arts recipient and Kennedy Center Honoree, Villella was inducted into the National Museum of Dance Hall of Fame in 2009. Villella will be a special guest at the Gala, participating in the evening's reception and dinner as well as an onstage tribute prior to the start of New York City Ballet's performance.  
The Ruby Ball: Ballet Gala
The Ballet Gala is SPAC's primary fundraiser for New York City Ballet's historic SPAC residency, now in its 48th season. The Gala features a special one-time-only program performed by New York City Ballet, post-show fireworks and two spectacular parties taking place simultaneously: a Hall of Springs black-tie reception and dinner and an outdoor "Lawn Party" on SPAC's famous lawn featuring live music and dancing, picnic and costume contests. Highlighting New York City Ballet's Gala program will be Balanchine's brilliant Rubies, the second section of his full-length, abstract ballet Jewels and the inspiration for the evening's theme. Rubies, a fast-paced work that evokes jazz age verve and glamour, features dancers adorned in Karinska's famous, red jeweled costumes. Alongside Rubies on the program will be the Saratoga premieres of Peter Martins' new ballet Bal de Couture featuring original costume designs by fashion designer and master couturier, Valentino Garavani, often known simply as "Valentino," and Christopher Wheeldon's pas de deux, This Bitter Earth, excerpted from Wheeldon's Five Movements, Three Repeats. The evening culminates with West Side Story Suite, Jerome Robbins' suite of dances taken from the award-winning musical he created with Leonard Bernstein and Stephen Sondheim; it is one of the few works in the ballet repertory that requires dancers to sing as well as dance. Information and tickets to The Ruby Ball: Ballet Gala are available at spac.org, at SPAC's Route 50 Box Office or by phone at 518-584-9330.
###