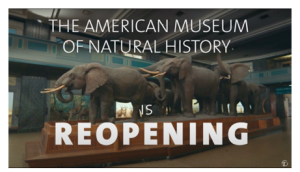 Ticket Reservations Available Now On AMNH.ORG
To view the Museum's reopening video, please click here . 
FOR MEDIA: In-person press visits should be scheduled in advance by contacting the Museum's media relations department at 212-769-5800 or communications@amnh.org.     
New York, N.Y. – The American Museum of Natural History has reopened its doors to the general public, ending the longest closure in the Museum's 150-year history. For reopening, attendance in the building will be limited to 25 percent of normal capacity to allow ample room for physical distancing, providing a unique, intimate opportunity for visitors to reacquaint themselves with such beloved Museum icons as the blue whale, the Titanosaur, and T. rex. With New York City public schools opening on September 21, in the coming days the Museum can offer families a place to learn and discover together, or to simply enjoy one another's company. In addition to most of the Museum's permanent halls, visitors will be able to see two special exhibitions: the blockbuster T. rex: The Ultimate Predator and a new exhibition, The Nature of Color, an exploration of what color reveals about the natural world and ourselves, which was on view for only a few days before the Museum closed in March.
As part of the reopening, the Museum will be highlighting critical components of its science and education mission, including by:
sharing grade-specific learning opportunities online and onsite in Museum galleries for students in Grades K-12, including hall guides for the Milstein Hall of Ocean Life, the Hall of Biodiversity, and the Bernard Family Hall of North American Mammals with activities for all grade levels;
welcoming a group of young children, and their families, from the Goddard Riverside Head Start, a preschool program that has partnered with the Museum or the Museum's Science and Nature Program for over 20 years, and;
featuring the Museum's 2020 Isaac Asimov Memorial Debate, Speculations on Alien Life on Earth and Across the Universe, a ticketed online event hosted by Neil deGrasse Tyson, the Frederick P. Rose Director of the Hayden Planetarium.
Advance ticket reservations are required and are available now on amnh.org or through the Museum's Explorer app. The Museum will be open to the public Wednesday–Sunday, from 10 am to 5:30 pm, and facial coverings are required for all staff and visitors ages 2 and up. For more information on additional health and safety measures at the Museum, please click here.
###
Image credits: ©AMNH