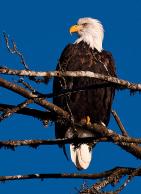 Watch Bald Eagles Soaring During March 
Albany, N.Y.
- In a state known for its abundance of sports and entertainment industry celebrities, it will be a star of the feathered kind that grabs the attention of photographers for the next month or so - the bald eagle. Now through the end of March is the perfect time to observe these majestic creatures as they soar or perch on branches high above their fishing sites. During the 1800s and early 1900s, New York was home to more than 70 nesting pairs of bald eagles, and was the chosen wintering grounds of several hundred. By 1960, the state had only one known active bald eagle nest remaining, and the number of wintering visitors had been reduced to less than a few dozen. A national ban on DDT in 1972, prohibitions against taking or killing bald eagles in the federal Endangered Species Act of 1973, and the initiation of New York's Endangered Species Program in 1976 began a dramatic turnaround for our national symbol. Today an estimated 150-200 bald eagles migrate through the state each year. New York State offers a combination of open water and colder temperatures to create the perfect atmosphere for these regal creatures. Eagle watching is one of the most affordable activities for New York State winter visitors with a number of guided tours, excursions and educational workshops available through The Eagle Institute, a non-profit, volunteer organization dedicated to the protection of the bald eagle and other birds of prey.  Group rates are available for eagle watching in their natural habitats throughout February and March. The Institute presents slides, field excursions, workshops and on-site interpretive programs on weekends. To learn more about opportunities through The Eagle Institute, visit
http://www.eagleinstitute.org/
or call 570-685-5960. Remember, whether you're eagle watching by yourself or with a guided group, be sure to bring binoculars and long-lens cameras.
Key eagle-watching locations include:
Upper Delaware River, Sullivan County
The New York State Department of Environmental Conservation maintains two, well-marked viewing areas in the Mongaup Valley on the Rio and Mongaup Falls reservoirs where an information booth is stationed.  The area hosts one of the largest bald eagle wintering sites in the state, and also supports several active eagle nests. For more information, visit
http://www.dec.ny.gov/outdoor/68639.html
National Wildlife Refuges, Genesee and Seneca Counties
The Iroquois National Wildlife Refuge Visitor's Center in Basom (
www.fws.gov/northeast/iroquois
) and The Montezuma National Wildlife Refuge in Seneca Falls (
www.fws.gov/r5mnwr/mnwr7.html
) are ideal viewing points as well.
Additional Viewing Points in New York State:
Norrie Point State Park, Hyde Park
Constitution Island from North Dock, West Point
Riverfront Park, Peekskill
Charles Point/China Pier, Peekskill
George's Island Park, Verplank
Verplanck Waterfront, Cortlandt
For more information on these viewing areas, visit the New York State Department of Environmental Conservation Web site at
www.dec.state.ny.us/
.
###
About New York State
New York State features 11 beautiful vacation regions.  New York's attractions span from landmarks such as Niagara Falls, to the wine trails of Hudson Valley and treasures like the Baseball Hall of Fame in Cooperstown.  Whether it's wide-ranging outdoor activities for the whole family like fishing, hiking and boating, culinary wonders and farm-to-table fresh foods, or the rich history and culture of one of the 13 original colonies, New York State offers diverse activities for all travelers. For more information visit http://www.iloveny.com/. Media can find press releases and more at
http://www.thebeat.iloveny.com/
. Empire State Development is New York's chief economic development agency, committed to being recognized on a global scale as the economic development engine driving job growth, strategic investment and prosperity in New York State. ESD also oversees the marketing of "I LOVE NY," the State's iconic tourism brand.  For more information, visit
http://www.esd.ny.gov/
.
Contact
:                                  Eric Scheffel (ESD) |
escheffel@empire.state.ny.us
| 518.292.5274