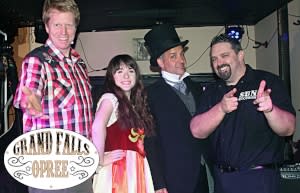 Niagara Falls, N.Y. – The America's Wonder Dinner Theater returns in 2017 with two shows and a bright future for celebrating our heritage and history in a fun-filed musical presentation.
"Niagara Falls - America's Wonder", our original show, returns for Sunday Brunch held at the Days Inn on the Falls.  At 11 a.m. each Sunday our team tells stories, presents characters of history and provides a wonderful musical soundtrack to the story of Niagara Falls from a uniquely American perspective.  
"The Grand Falls Opree" is our newest, and most fun-filled experience taking place at Nashville North Restaurant and Saloon at 462 Third Street in Niagara Falls.  With roots in the tradition of such presentations as the "Grand Ol' Opry" and "Hee Haw", this is the story of Niagara with a distinctive country flavor.  The Grand Falls Opree includes the award-winning barbecue fare of Nashville North.  The show was created by restaurant owner Brett Biro and Peter Green of Roadtrip Entertainment.  Brett states "Niagara Falls needs a little more originality and spark, and believe me, that's in this show".   Monday evenings, doors open at 7 p.m. and dinner/show starts at 7:30 p.m. from May 29 to Labor Day weekend.
For information please email roadtripniagara@gmail.com, or call us at 716-359-6170.  You can also visit our website - www.nashvillenorthniagara.com  
(PHOTO)  - Drummer Cave Wilson, tightrope walker Maria Spelterini (played by Sophie May), inventor Nikola Tesla (played by Jon May) and bandleader Brian Beaudry on the set of the "Grand Falls Opree".  
Contact:
Peter Green 
Tour Director 
Roadtrip Entertainment and Tours
716-359-6170 (cell)