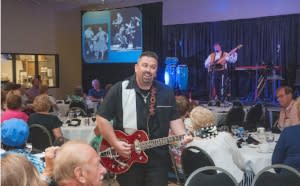 Niagara Falls, N.Y. – The America's Wonder Dinner Show played to rave reviews in 2016, with a showcase of great American Music at the Great American Waterfall - Niagara Falls!  In 2017 the show returns with two incarnations.
"Niagara Falls - America's Wonder" is a Sunday Brunch experience starting on May 28th and running until Labor Day Weekend, September 3rd.  The Brunch includes superb food and the wonderful experience of the Annie Taylor room at the Days Inn at the Falls, 443 Main Street in Niagara Falls, NY.
A new show has been added to the America's Wonder repertory program.  "The Grand Falls Opree" is a blend of Country Music, early rock and roll and rockabilly, with characters of Niagara's history and stories that bring the Niagara Falls USA experience to life!  "The Grand Falls Opree" runs on Monday evenings starting at 7pm and is held at Nashville North, 462 Third Street in Niagara Falls, NY.  "Country music is a truly American experience" shares Music Director Brian Beaudry, "and people from all over the country, and all over the world, love the music from the American heart".  Beaudry returns to lead a program of favorite tunes from the American songbook of the past 200 years.
Both shows are offered by Roadtrip Niagara - www.roadtripniagara.com - or telephone 716-359-6170.  Group rates are available and the shows are family-friendly.  Show producer and Host of the Grand Falls Opree, Brett Biro, shares that "The history is accurate and entertaining, the music is familiar and engaging, and the experience really brings Niagara Falls to life for Americans and guests to our Nation alike". 
###
Contact:
Peter Green
Tour Director
Roadtrip Entertainment and Tours
Presenting "Niagara Falls - America's Wonder" Dinner Theater at the Niagara Falls Culinary Institute
716-359-6170