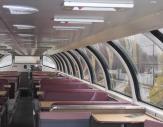 New York, N.Y.
- Attention fall foliage lovers: The
Adirondack
and
Cardinal 
will once again feature Amtrak's full-length "Great Dome" car for the 2011 fall foliage season. The "Great Dome" car features an upper level with windows on all sides as well as overhead to provide passengers with panoramic views of the changing colors of the trees and passing scenery. September 15 through October 23, 2011 the car will operate on the 
Adirondack
;
Train 69 (northbound) from Albany to Montreal on Thursdays, Saturdays and Mondays.
Train 68 (southbound) from Montreal to Albany on Fridays, Sundays, and Tuesdays.
No dome car trips are made on Wednesdays.
October 29 through November 11, 2011 the car will operate Washington - Chicago on the 
Cardinal;
Train 51 (westbound) originating on Fridays.
Train 50 (eastbound) originating on Saturdays.
The Dome Car cannot operate between Albany and New York, or between Washington and New York, due to clearance restrictions. All passengers traveling on either route are welcome to enter the dome car to enjoy the view. Seats in the dome car are not reserved and are available on a first-come, first-served basis. Visit
http://www.amtrak.com/
or call 1-800-USA-RAIL to make your reservations on these special trains. Passengers riding the Adirondack can take advantage of the I Love NY 15% discount off the regular (full) adult rail fare. The offer is valid for sale through May 28, 2012. Advance reservations are required. In addition, up to 2 children ages 2-15 may accompany each adult at half the discounted rail fare. This offer is available exclusively at
http://www.iloveny.com/
.
About the "Great Dome" Car
  The refurbished vintage car dates back to 1955 and has a dome section that runs the full length of the car, a rare feature, even when dome cars were more numerous on the nation's railroads. In addition, the "Great Dome" car has been freshly re-painted in honor of Amtrak's 40th Anniversary. The Amtrak Phase III paint scheme this car once again wears is comprised of equal red, white and blue stripes, symbolic of Amtrak being America's Railroad.
###