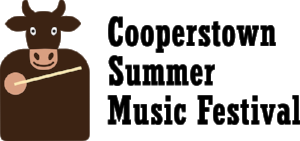 Cooperstown, N.Y. – You can sing in the shower and whistle while you work, but can you perform an opera while baking a cake?
Mezzo-soprano Samantha Malk will attempt that feat when she performs Leo Hoiby's Bon Appétit!, a one-woman opera based on Julia Child's beloved cooking show, at the Otesaga Resort Hotel on Monday August 20 at 7:30pm. While accompanied by woodwind quintet and piano, Ms. Malk will whip up a cake – using real ingredients – right in front of the audience's eyes.
The August 20 concert is part of the Cooperstown Summer Music Festival's 20th anniversary season, and will pair Hoiby's short opera with Claude Bolling's Suite for Flute and Jazz Piano, a lighthearted crossover incorporating two distinct styles of music: baroque and swing-style jazz. The Bolling will be performed by Linda Chesis, flute, Warren Jones, piano, Ron Wasserman, bass, and Jon Di Fiore, drums.
Chesis, who is also the Festival's founder and artistic director, has a personal connection to the Bolling Suite; it was written for her former teacher, flutist Jean Pierre Rampal.
"I came to study with Rampal in France the year after his recording of the Bolling was released," Chesis recalls. "The recording was an immediate hit - so successful that he was able to purchase a gold Jaguar convertible with the royalties! The Bolling remained on the Billboard charts for nearly a decade."
At first glance, the two pieces on the program seem like an unusual pairing. Chesis agrees, but says that was intentional. "Both pieces are unexpected blends with a French twist," says Chesis. "The Hoiby combines opera with popular culture, while the Bolling melds jazz with classical music."
"It's all about surprising combinations," Chesis continues. "That's what makes it fun for both the audience and the performers."
If that doesn't sell you on this concert, maybe this will: chocolate cake will be served at the end.
EVENT DETAILS:
Bon Appétit! and Bolling Suite
Monday, August 20 at 7:30pm, Otesaga Resort Hotel, 60 Lake Street, Cooperstown
Program:
Claude Bolling's Suite for Flute and Jazz Piano
Linda Chesis, flute; Warren Jones, piano; Ron Wasserman, bass; Jon Di Fiore, drums
Lee Hoiby's Bon Appétit!
Samantha Malk, mezzo soprano as Julia Child; Warren Jones, piano; Linda Chesis, flute; Kemp Jernigan, oboe; Pascal Archer, clarinet; Mark Timmerman, bassoon; Karl Kramer-Johansen, horn
TICKETS:
Tickets are $25 for adults, $15 for students.
Purchase online at www.cooperstownmusicfest.org; by phone through Brown Paper Tickets, (800) 838-3006, or at the door.
There is no service charge for tickets purchased online or by phone.
ABOUT THE COOPERSTOWN SUMMER MUSIC FESTIVAL:
Founded in 1999, the Cooperstown Summer Music Festival has been bringing world-class chamber music performances to the Cooperstown area for 20 years. The festival has featured performances by the Tokyo String Quartet, the American String Quartet, the St. Lawrence String Quartet, Kurt Elling, Tim Fain, Bill Charlap, Hilary Kole, Simone Dinnerstein, Mark O'Connor, the Sonia Olla Flamenco Dance Company, and many more.
Cooperstown is home to the National Baseball Hall of Fame and Museum, the Glimmerglass Festival, and the Fenimore Art Museum as well as many galleries, restaurants, and a historic Main Street.
Concerts are held in venues across Cooperstown, including Christ Church (the church of author James Fenimore Cooper) and the ballroom of the grand Otesaga Hotel.
Celebrated graphic artist Milton Glaser (best known for the I LOVE NEW YORK campaign) has created a series of 17 posters for the Festival featuring violins and cows, a nod to Cooperstown's rural character. Performance Today host Fred Child has said, "Not only do they do interesting concerts, they have great posters."
The Cooperstown Summer Music Festival is made possible by the New York State Council on the Arts with the support of Governor Andrew Cuomo and the New York State Legislature.
See cooperstownmusicfest.org for details.
For additional information or artist photos, please contact Katie Dryden at katharine.dryden@gmail.com or (716) 572-2993.
###
Contact:
Katie Dryden, katharine.dryden@gmail.com or 716-572-2993