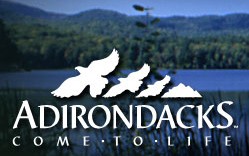 Brand new site launches with eight virtual aerial tours of this stunning Northern New York State region
Re-designed, re-engineered and re-imagined -  the
Adirondack Regional Tourism Council
has launched 
VisitAdirondacks.com
,
an exciting new Web site aimed at first-time visitors, featuring high definition videos tours and interactive highlights. The new site showcases unique locations within this six-million-ace wilderness via extraordinary aerial video.  After more than a decade featuring broader aspects of the region the site now provides more information on each area, as well as a virtual birds-eye view, from the Tug Hill Plateau to the Saranac Lake Chain. From main streets to mountain tops, online visitors will find a wealth of information to help plan the ultimate Adirondack getaway. According to Ron Ofner, Executive Director of the Adirondack Regional Council, many potential visitors are not even aware of the location of the Adirondacks, let alone what they have to offer.  "We designed the new Web site to give people a better understanding of our great vacation destinations. One of the coolest features for first-time visitors is the ability to view the exciting high definition video tours."
VisitAdirondacks.com
has an easy-to-use interface for information on lodging properties, events and outdoor seasonal activities along with interactive trip planning maps. The site's newsroom is a multi-media resource featuring the latest "In the News" media coverage, high resolution images, story ideas and Adirondack facts.
About the Adirondack Region
The Adirondack Park, named for the Adirondack Mountains that lie within its boundary, offers some of the best opportunities in the United States for both recreation and relaxation in a superb natural setting. The Park is larger than Yellowstone, Yosemite, Glacier, Grand Canyon and Great Smokies combined. Its six-million-acre wilderness areas are an outdoor-lover's paradise and the Adirondack Regional Tourism Council can provide information about planning a vacation in the region. Call 800-487-6867 or log onto
VisitAdirondacks.com
 for videos, package listings, events, activities, restaurants, lodging and maps.
###
Contact: Rebecca Steffan (518) 523-9258
Rebecca@InphormInc.com