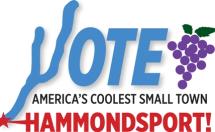 Hammondsport, N.Y.
- Voting ended for the final round of
Budget Travel
's "America's Coolest Small Town" contest at midnight last night... but the system was too quick to determine a winner. Due to the high volume of traffic,
Budget Travel
servers crashed multiple times throughout the day Tuesday. Although a banner placed on
Budget Travel
's voting map declared Beaufort the "winner" shortly after midnight,
Budget Travel
was quick to remove it, and issue a statement: "We were thrilled with the response for the amazing entrants in this year's Coolest Small Towns contest -- the race was tight and fierce and in fact, as many of you are already well aware, the response was so great you broke the site! We know you are anxious for the results, and we are anxious to do right. So bear with us while we make that determination and tune in mid-morning for the results!" So many Hammondsport supporters, and presumably Beaufort supporters, were unable to cast their final votes yesterday due to the server outages.
Budget Travel
realized this, and did the only fair thing. They declared a tie between the two top towns.
Budget Travel
released a statement on its Facebook page this afternoon: "We made what we felt was the very best and fairest decision in this unusual situation. It was not a tie because it was 'too close to call' by the numbers alone. It was a tie because technical difficulties meant so many people were locked out of voting at a critical time, and casting a decision when all things were not equal in such a tight situation was, well, not equal."
Budget Travel
added, "We think both towns rock and encourage everyone to visit them!!" "We couldn't be happier," said Peggy Coleman, President of the Steuben County Conference & Visitors Bureau. "While it would have been nice to have a decisive victory, given the circumstances, we're thrilled with the outcome. What this means for us in terms of advertising is huge. In a million years, we couldn't dream of being able to pay for this kind of exposure. It's very exciting. Despite the servers being down for more than six hours Tuesday, more than 30,000 votes were registered. "I'm exhausted and overwhelmed - and extremely, extremely proud of the effort everyone put into this," said Marybeth Haar, Office Manager for the Hammondsport Chamber of Commerce. "This is what shows how cool we really are. "I have to commend Beaufort, too," she continued. "Both these towns blew everyone else out of the water." According to the blog posted on
Budget Travel
late this morning, Beaufort finished with 36.2% of the vote, and Hammondsport with 36.0%, separating the towns by a mere several hundred votes.
http://blog.budgettravel.com/budgettravel/2012/02/coolest-small-town-2012-tie.html
   "This is a big win for the region as a whole," said Christina Chely, Marketing and Public Relations Manager at Finger Lakes Wine Country Tourism Marketing Association. "Finger Lakes Wine Country is made up of many cool small towns complete wi
th friendly faces, charming downtowns, and a storied history. These small towns are one reason visitors enjoy the region so much. Hammondsport is a small town that truly has it all, and we're thrilled that one of Finger Lakes Wine Country's own is America's Coolest Small Town."
Although tourism professionals throughout New York State have been working hard to push the word out through the competition, they realize all the work would have been meaningless if people hadn't taken it upon themselves to help spread the word.
"We need to extend an enormous thank you to everyone who supported Hammondsport," Coleman said. "So many people voted every day and told everyone they knew to do the same. Whether through mass e-mails or social media, everyone got behind Hammondsport and made this possible. We couldn't have done this without you." Hammondsport and Beaufort will now be featured in the September/October issue of
Budget Travel
magazine. Cheers to one very cool upcoming year for Hammondsport as America's Coolest Small Town! The Steuben County Conference & Visitors Bureau was established in 1994. As Steuben County's official tourism marketing agency, our mission is to aggressively promote the visitor industry year-round and thereby stimulate economic growth. Finger Lakes Wine Country is the most affordable and beautiful wine country destination in North America with four wine trails; over 100 wineries and over 400 unique things to do including shopping and dining experiences, world-class museums, and a local culture that is both warm and welcoming. For further information on this year-round destination visit
http://www.fingerlakeswinecountry.com/
,
www.Facebook.com/FingerLakesWineCountry
,
www.Twitter.com/FLWineCountry
, or call 800.813.2958. Download the free Finger Lakes Wine Country mobile travel app at
http://www.flwc.mobi/
.
###
Contact
: Kim Price, Communications Manager Steuben County Conference & Visitors Bureau 607-936-6544 / 866-WINE-FUN
kprice@corningfingerlakes.com