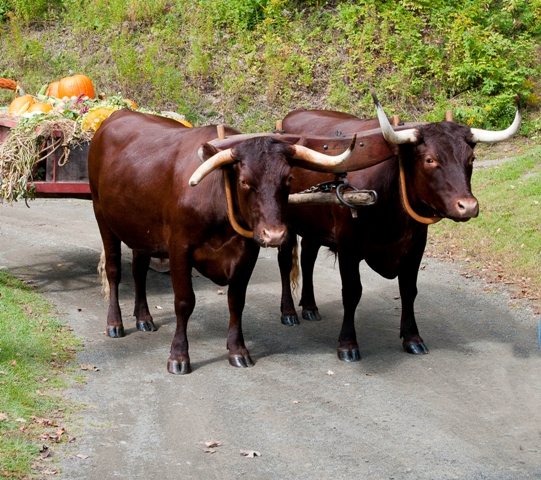 Cooperstown, N.Y. -
On August 25-26, step back in time to when oxen and horses provided much of the power needed for agriculture. During Animal Power Weekend
at The Farmers' Museum in Cooperstown
,
admire
these animals in action and the people who worked with them. Experience agriculture at the animal's pace, as farmers cultivate with horses and pick up hay with oxen. Admire the skills of craftspeople making ox-yokes and other equipment. Enjoy activities that engage the entire family, such as walking on a treadmill designed to churn butter, or perhaps feeding the baby animals in the Children's Barnyard. Machinery from the museum's extensive collection will be on display, including animal-powered patent models. You can meet a mini-horse team, and take a ride around the Historic Village in a wagon. All the delightful activities replicating life in 1845 continue this weekend, with delightful additions such as making farrier's ointment at Dr. Thrall's Pharmacy.
Animal Power
is the next in the series of themed weekends at The Farmers' Museum. All
Step Back in Time Weekends
are held at the museum from 10:00 am - 5:00 pm. Entry is included in the museum admission: Adults and juniors (13-64): $12.00; seniors (65+): $10.50; youth (7-12): $6.00; children (6 and under): Free. NYSHA members are always admitted free, as are active-duty and retired career military.  Through Labor Day 2012, active-duty military and up to five family members are free, through the Blue Star Museum program.
###
Image caption:
 A team of oxen ready themselves for Animal Power Weekend, coming to The Farmers' Museum on Saturday and Sunday, August 25 and 26.
For more information or images, please contact:
Todd Kenyon, Public Relations New York State Historical Association Fenimore Art Museum/The Farmers' Museum Phone: (607) 547-1472 / E-mail:
t.kenyon@nysha.org
About The Farmers' Museum
As one of the oldest rural life museums in the country, The Farmers' Museum in Cooperstown, New York, provides visitors with a unique opportunity to experience 19th-century rural and village life first-hand through authenticdemonstrations and interpretative exhibits. The museum, founded in 1943, comprises a Colonial Revival stone barn listed on the National Register forHistoric Places, a recreated historic village circa 1845, the Empire State Carousel, and a working farmstead. Through its 19th-century village and farm, the museum preserves important examples of upstate New York architecture, early agricultural tools and equipment, and heritage livestock. The Farmers' Museum's outstanding collection of more than 23,000 items encompasses significant historic objects ranging from butter molds to carriages, and hand planes toplows. The museum also presents a broad range of interactive educational programs for school groups, families, and adults that explore and preserve the rich agricultural history of the region.