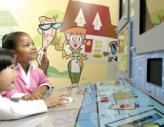 Rochester, N.Y.
- Ready, set, draw! Explore the science behind the art of animation amid colorful, larger-than-life graphics of popular characters from
Cartoon Network
at the new
Animation
exhibit opening at
The Strong® National Museum of Play
®
on February 1, 2014. Families and children will delight in bringing their own creations to life-from storyboarding, character design, and drawing techniques, to movement, timing, filming, and sound selections. Guests can explore an array of animation tools and techniques, including cartoon drawing visual effects, cel layering, computer animation, and stop-motion and time-lapse technology. Discover six thematic areas in the exhibit:
History:
Learn about early animation and apparent motion. Manipulate and spin three-dimensional objects with a praxinoscope to see them morph into a single animation. Visit the Penny Arcade and test a mutoscope, a hand-cranked 19th-century animation viewer.
Animation Studio:
Explore the process of animation, from story creation to animators' techniques and tools. Develop a storyboard from a series of picture cards, draw characters, enlarge drawings with a pantograph, and create scenes using layered cels and moving backgrounds.
Art in Motion:
Discover why art and math are important allies when creating characters, motion, and change with help from Cartoon Network's
Foster's Home
for Imaginary Friends.
Animate yourself using a large floor grid, camera, and computer.
Science Laboratory:
In
Dexter's Laboratory,
delve into the science and technology that make animation possible. Create the illusion of a bouncing ball with a "squash and stretch" technique and find out how the action slows down or speeds up with time-lapse videos. Watch yourself "hover" while exploring visual effects in a full-body interactive experience that uses the same type of special effects Hollywood uses in movies and television.
Sound and Stage:
Discover the principles of sound and phonetics with characters from
Chowder, Ben 10: Alien
Force,
and
Kids Next Door.
Explore the complexity of matching phrases to different mouth shapes. Add your own voice to a silent animation and watch the character say your words. Set the mood of a film by selecting background music from a variety of soundtracks.
Cartoon Museum:
View clips of popular animations such as
Josie and the Pussy Cats, Top Cat, The Jetsons,
Challenge of the Super Friends,
and many more while learning the secrets behind their production. Examine unique artifacts such as cels, models, and storyboard drawings from classic and favorite animations such as
Scooby-Doo, The Powerpuff Girls,
and
The Flintstones.
The
Animation
exhibit remains on view at The Strong museum through April 27, 2014. The exhibit was created and is circulated by the
Oregon
Museum of Science and Industry
.
TM
and © 2014 Cartoon Network. All rights reserved. =============================================================
Museum Hours:
Monday-Thursday, 10 a.m. to 5 p.m.; Friday and Saturday, 10 a.m. to 8 p.m.;  Sunday, noon to 5 p.m.
General Admission Fees
(does not include admission to
Dancing Wings Butterfly Garden
®
): age 2 and older $13.50, under age 2 free, members free.
Admission to Dancing Wings Butterfly Garden:
General Admission fee plus $3 for members, $4 for nonmembers, under age 2 free. Entry is by timed ticket only.
Parking:
Free parking is available at the museum for all guests on a first-come, first-served basis. Please note that, on high visitation days, the museum lot may reach capacity early in the day. If space is not available on site at the time of your visit, additional parking is available at neighboring municipal garages for a fee. The Strong is not responsible for fees incurred at off-site locations. Shane Rhinewald, 585-410-6365,
srhinewald@thestrong.org