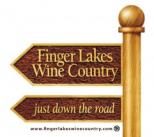 Finger Lakes Region, N.Y. - Finger Lakes Wine Country Tourism Marketing Association in partnership with Finger Lakes Wine Alliance is excited to announce the 2010 Vintage Riesling Launch, September 19 - 24, 2011. The weeklong celebration will include special events like Riesling Hour, a virtual Finger Lakes Riesling tasting and a Finger Lakes Riesling presence at exciting harvest events in the Northeast. "Finger Lakes Riesling is everything Riesling should be," said Josh Wig, co-owner of Lamoreaux Landing Wine Cellars. "The crisp acidity from our cool climate makes it extremely food friendly." Ted Marks, owner of Atwater Vineyards added "Riesling has an amazing fruit profile that sings on the palate."  The 2010 Vintage Riesling is very promising. "It was a long, warm growing season in the Finger Lakes yielding plenty of ripe flavors and natural sugar," David Whiting, owner and winemaker at Red Newt Cellars. "Bouts of rain at harvest time necessitated diligence in the vineyard for premium quality fruit. Overall 2010 Rieslings show opulence, extraction, and some heat. A wonderful year!" Two highlights of the 2010 Vintage Finger Lakes Riesling Launch are an event in New York City and a virtual tasting. Sample Finger Lakes Rieslings at Harvest in the Square presented by Union Square Partnership at Union Square Park in New York City on Thursday, September 22, 2011 at 6 p.m. For more information, http://www.harvest.unionsquarenyc.org/. Another highlight of the 2010 Vintage Riesling Launch is the virtual Riesling tasting, Riesling Hour, taking place Thursday, September 22, 2011 at 7:00 p.m. ET. Both media and consumers are encouraged to grab their favorite bottle of Finger Lakes Riesling and share their thoughts and experiences on Twitter using the #FLXwine hashtag. More information can be found at http://www.fingerlakeswinealliance.com/. Riesling is king in the United States. It is one of the fastest growing wine varieties in sales volume according to the 2010 Nielsen Study. Riesling is king in the Finger Lakes. This noble grape is the Finger Lakes most widely planted Vinifera variety with nearly 1000 acres in production and almost every winery produces at least one Riesling brand. The microclimate conditions and the slate soils that are so special to the Finger Lakes are exactly what make Riesling thrive here. The wineries of Finger Lakes Wine Country continue to be internationally recognized for their award-winning Rieslings in such publications as Wine Spectator, Wine Enthusiast, Food & Wine, Wine & Spirits, and Decanter. Many of the region's Rieslings have won many prestigious medals at wine competitions like Riesling du Monde, or Rieslings of the World, in the Alsace region of France. More information on Finger Lakes Riesling can be found at http://www.fingerlakeswinealliance.com/. Riesling Hour | Thursday, September 22 Thank you for participating in this year's Riesling Hour. We hope you enjoy these wines while spending the evening relaxing with friends.
RSVP here >>> http://on.fb.me/lYveia.
Plan your Riesling Hour menu. Need some ideas? Visit http://www.rieslingrocks.com/.
Invite some friends to your Riesling Hour.
Chill your bottles.
Tastings will be begin at 7 p.m. ET and continue through the evening. Don't worry if you will be joining us later as we have a number of Riesling lovers participating from the west coast.
Log on to Twitter. Share your thoughts and photos using #FLXwine.
In addition, post directly (or tag Finger Lakes Wine Country on your page) to the Finger Lakes Wine Country fanpage at http://www.Facebook.com/FingerLakesWineCountry.
Finger Lakes Riesling Characteristics The Finger Lakes region is known for strong, regional aromatic whites with a focus on Riesling. Finger Lakes Rieslings are varied due to differing terroirs along four main lakes (Seneca, Keuka, Cayuga and Canandaigua) displaying regional characteristics. It is important to discover where the fruit is grown. For example, Keuka Lake's East side expresses steely minerality in dry Rieslings produced there. Southeast Seneca yields more tree fruit (apricot/lime) flavors as opposed to say more mineral/flinty notes, though many factors can contribute to fruit expression beyond location (clone, yields, trellising, soils etc.) In other words, there are divergent approaches to Riesling lending to the various styles and flavor profiles that are found in the Finger Lakes. Finger Lakes Riesling Fast Facts
Nearly 1,000 acres of Riesling vineyards planted.
100,000 cases of Riesling produced.
The average producer makes 2.5 styles of Riesling wine a year.
The Finger Lakes is home to over 200 Riesling brands.
Finger Lakes Rieslings offer a balance of fruit flavors and crispness.
Dominant flavor profiles in Finger Lakes Rieslings are lime, grapefruit, honey, apricot, mineral, slate, mild citrus, Granny Smith apple.
Finger Lakes Rieslings range from dry to semi-dry to late-harvest with varied sugar levels.
# # #
Contact: Christina Chely Finger Lakes Wine Country 800-813-2958