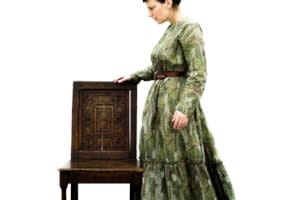 A solo show created and performed by Erica Fae, with words by Sarah Wakefield
Opens May 23, runs through June 3
New York, NY - The Archive Residency is a vital incubator for New York City's most electrifying independent theater companies. This two-year residency offers companies an artistic home for the development and presentation of a new work. Each residency culminates with a world premiere production. Now in its fifth year, the Archive Residency is a collaboration between New Ohio Theatre and IRT Theater (likeminded neighbors in the historic Archive Building in the West Village).
The second company completing their residency this spring is anecdota, presenting the world premiere of SAVED AGAIN AND BY HIM, a solo show created and performed by Erica Fae, with words by Sarah Wakefield, made in collaboration with Nicholas Galanin, running May 23 - June 3, 2018. Official opening is May 23.
Performances are Tuesdays - Saturdays at 7:30pm and Sundays at 5pm at New Ohio Theatre, located at 154 Christopher Street between Greenwich and Washington Streets in New York City. Tickets are $25. Purchase at http://NewOhioTheatre.org or by calling 212-352-3101. The running time is approximately 70 minutes. For info visit http://NewOhioTheatre.org, Like them on Facebook at https://www.Facebook.com/NewOhioTheatre, and follow on Twitter (https://twitter.com/NewOhioTheatre) and Instagram (https://www.instagram.com/newohiotheatre) at @NewOhioTheatre.
Drawn directly from Sarah Wakefield's narrative Six Weeks in the Sioux Tepees, SAVED AGAIN AND BY HIM recounts Sarah's experiences during the 1862 Dakota Uprising in Minnesota – a conflict that ended with President Lincoln's approval of the largest mass execution in US history. Were it not for the protection provided by one Dakota man, Sarah likely would not have lived to tell her story. A complicated narrator, by turns admirable and offensive, Sarah's voice resonates sharply as we still grapple with the legacy of America's brutal past (and present). Running time is approximately 75 minutes.
The production team includes Sheldon Raymore (Creative & Cultural Consultant), Christina Watanabe (Lighting Design), William Neal (Sound Design), Jennifer Anderson (Costume Design) and Rachel Shaw (Production Stage Manager).
anecdota is dedicated to telling too-little-known true stories of American history. Its first piece, Take What Is Yours (the inaugural production at New Ohio), centered on Alice Paul and the woman's suffrage movement, and was a New York Times and Backstage Critic's Pick.
Erica Fae is an actor, filmmaker, writer/creator and teacher. SAVED AGAIN AND BY HIM marks her return to the solo form, the first being A GIRL JOAN about Joan of Arc. Most recently, she wrote/directed/performed in the award-winning feature film TO KEEP THE LIGHT, currently on Amazon, iTunes and VOD platforms. She teaches at the Yale School of Drama & the New School for Drama (MFA Program) and is in development on her second feature. Erica has had recurring roles on HBO's "Boardwalk Empire" and "Doll & Em," and can be seen in numerous films including Synecdoche New York, Little Children and Please Give. For info visit http://EricaFae.com.
The New York Times called Erica Fae's Take What Is Yours "riveting and powerful." Huffington Post praised her "virtuosic performance" in the play and described Fae as "a mesmerizing storyteller and performer." TheaterMania called the show "a brilliant docudrama," while Backstage lauded Fae's "expressive voice and body." The Washingtonian called her film To Keep the Light "mesmerizing and stunning…Fae has rightfully been anointed as an emerging talent." Fipresci described it as "a work by a visionary artist" and praised Fae's "most impressive and moving performance."
About the Archive Residency: The first year includes a one-month stay in IRT's 3B Development Series, and a one-week presentation in New Ohio's OBIE Award-winning Ice Factory summer festival. Archive Residency's two first-year resident companies, One-Eighth Theater and The Drunkard's Wife, will be presenting first-look showings in the 2018 Ice Factory Festival, June 27 - August 11. The second year includes additional time at IRT, and culminates with a fully realized, four-week run in the New Ohio's main season. Each fall, two more independent companies are invited into the Archive Residency, bringing the program to full strength with four companies in residence, each cycling through the two-year development process. Archive Residency alumni include The Assembly, Blessed Unrest, Collaboration Town, The Mad Ones, Our Voices Theater, Piehole, Rady&Bloom and Vampire Cowboys. Membership into the Archive Residency is currently by invitation only.
New Ohio Theatre is a two-time OBIE Award-winning theatre under the leadership of Robert Lyons, Artistic Director, and Marc Stuart Weitz, Producing Director. The New Ohio serves New York's most adventurous theatre audiences by developing and presenting bold work from today's vast independent theatre community. They believe the best of this community, the small artist-driven ensembles and the daring producing companies who operate without a permanent theatrical home, are actively expanding the boundaries of where American theatre is right now and where it's going. From their home in the West Village's historic Archive Building, the New Ohio provides a high-profile platform for downtown's most mature, ridiculous, engaged, irreverent, gut-wrenching, frivolous, sophisticated, foolish and profound theatrical endeavors. The theatre is accessible from the #1 train to Christopher St. or A, B, C, D, E, F or M train to West 4th St. For info visit http://NewOhioTheatre.org.
IRT Theater is a grassroots laboratory for independent theater and performance in New York City, providing space and support to a new generation of artists. Tucked away in the old Archive Building in Greenwich Village, IRT's mission is to build a community of emerging and established artists by creating a home for the development and presentation of new work. Some of the artists they have supported include Young Jean Lee, Reggie Watts, Mike Daisey and many others. For info visit http://irttheater.org.
# # #
Press contact:
David Gibbs/DARR Publicity
646-744-7200 or david@darrpublicity.com