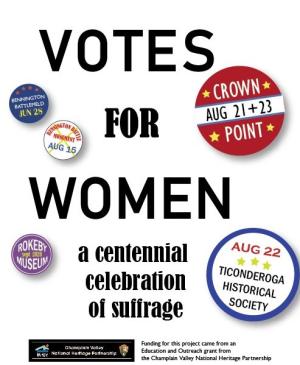 CVNHP Crown Point/TI Historical Society Event Taking Place Aug 21-23, 2020 at Crown Point State Historic Site
Crown Point, N.Y. – Explore the early days of the suffrage movement, its relevance to civil rights and the emergence of modern-day women in the workplace with a film series and historical presentations celebrating the centennial of suffrage.
Bring a lawn chair and join us under the tent on the shores of Lake Champlain. Pack a picnic lunch or dinner – or grab something from our food truck. Registration required, seating limited to 40 for each session. 
Email name, town of residence and contact info to  lisa.polay@parks.ny.gov or call 518-597- 3666.
FRIDAY AUG 21: EARLY DAYS
Pack a picnic dinner and join us!
DOCUMENTARY SCREENING: 5-8PM, with 15 minute intermission
The Story of Elizabeth Cady Stanton and Susan B Anthony NOT FOR OURSELVES ALONE  [1999]
Two women. One allegiance. Together they fought for women everywhere, and their strong willpower and sheer determination still ripples through contemporary society.  A documentary by Ken Burns.
Recount the trials, tribulations and triumphs of Elizabeth Cady Stanton and Susan B. Anthony as they strive to give birth to the women's movement. Not until their deaths was their shared vision of women's suffrage realized.
SATURDAY AUG 22: FIGHTING FOR CIVIL RIGHTS
DOCUMENTARY SCREENING: 1:30 PM
INEZ MILHOLLAND: FORWARD INTO THE LIGHT: [2016]
This short documentary tells the story of American icon, Inez Milholland, who broke convention with her striking conscience advocating for gender equality, pacifism, racial justice, unions, and free speech in the twentieth century. She became the voice of suffrage. In 1916 she crossed the country, giving 50 speeches in 28 days. Pushing though exhaustion and anemia, she fell at the podium, October 13, 1916, in Blanchard Hall, Los Angeles. She was taken to Good Samaritan Hospital, where she died a month later at age 30. Her last public sentence, "President Wilson, how long must women wait for liberty?"
PRESENTATION:  2PM
RACIAL JUSTICE, FEMINISM, AND THE 1924 MEMORIAL SERVICE FOR INEZ MILLHOLLAND BOISSEVAIN:  LESSONS FOR TODAY
CONNIE SHEMO1988), SUNY PLATTSBURGH, PROFESSOR OF HISTORY
In August of 1924 there was a memorial service in Lewis, NY for the nationally known suffrage activist Inez Milholland Boissevain, who died in 1916. At the gravesite Boissevain's father, John Milholland, protested the fact that the three African-American visitors, all prominent NAACP members connected with Howard University, had not been permitted to speak at the memorial service.  The ensuing controversy, which reached a nationwide audience, illuminated an important split in the women's movement in the United States at that time.  In the wake of John Milholland's powerful critique of the National Women's Party at the 1924 memorial service for his daughter, NWP members and others debated the connections between rights for women and rights for African-Americans with unusual frankness.  This talk will explore these debates and then end with some suggestions about how this split continues to impact American feminism today.
Connie Shemo is a Professor of history at Plattsburgh State University, specializing in the history of women and gender.  She teaches courses in U.S. women's history, global women's history, Chinese history, and the history of medicine.  She is the author of The Chinese Medical Ministries of Kang Cheng and Shi Meiyu, 1872-1937: On a Cross-Cultural Frontier of Gender, Race, and Nation (Lehigh University Press, 2011) and co-editor of Competing Kingdoms: Women, Mission, Nation, and the American Protestant Empire, 1812-1960 (Durham: Duke University Press, 2010).  Her articles have appeared in the Journal of Women's History, the Chinese Historical Review, History Compass, the Journal of American East Asian Relations, and most recently in the Spring 2019 issue of Diplomatic History, as well as in several edited collections.  From August of 2017 to January of 2018 she was a Fulbright scholar at the Center for the Study of Religion and Chinese Society at Shanghai University.  She has also given talks on the history of Disney princesses and how they reflect debates in modern American feminism.  She has done an "Academic Minute" for WAMC (Northeast Public Radio) and been interviewed on Vermont Edition, a radio program on Vermont Public Radio, and the Press Republican, a newspaper in Plattsburgh, NY.  Previous positions include Lecturer in History at Princeton University from 2002-2005. Her current projects are a study of American missionary medical education for Chinese women in China from 1879 to 1949, and an exploration of Disney Princesses in China.
PRESENTATION:  4PM
MY REBELIOUS THOUGHTS, READINGS FROM THE JOHN MILHOLLAND DIARIES
DIANE O'CONNOR, TICONDEROGA HISTORICAL SOCIETY, MANAGING DIRECTOR
Well-known suffragist Inez Milholland is highly regarded in the history of the Lake Champlain region. Her father John E. Milholland (1860-1925) is also recognized as an important figure of the Progressive Era, working not only for women's suffrage, but helping found the NAACP, working for Irish Freedom, and exposing government corruption as a journalist and publisher of the Ticonderoga Sentinel newspaper. This public reading of excerpts from John's diaries and writings will help listeners appreciate and understand more about this complex man, his influence on his famous daughter, and his larger contributions to our society.
Diane O'Connor is the Managing Director for the Ticonderoga Historical Society and Hancock House Museum, a four-story facility housing a 7,000-volume library, archive of original materials relating to the Champlain Valley, and changing exhibits and programs on regional history. 
She brings to her position more than 30 years of non-profit management, primarily within the history arena.  She is a past director of the National Genealogical Society, holds a bachelor's degree in history from Point Park University in Pittsburgh, and a non-profit management certificate from Duke University. 
Prior to joining the Historical Society in 2015, Diane served as Essex County Historian and Director of the Adirondack History Center.
SUNDAY, AUGUST 23: WOMEN AT WORK
DOCUMENTARY SCREENING: 11AM – 2 PM, with a 15 min intermission
MAKERS: WOMEN WHO MAKE AMERICA [2013]
Over the last half-century, America has seen one of the most sweeping social revolutions in its history, as women have asserted their rights to a full and fair share of political power, economic opportunity, and personal autonomy.  It's a revolution that has unfolded in public and private, on grand stages like the Supreme Court and Congress, and humbler ones like the boardroom and the bedroom. No individual, nor any aspect of American life, has not been changed. The MAKERS project features groundbreaking American women in different spheres of influence: war, comedy, space, business, Hollywood and politics.
DOCUMENTARY SCREENING:  2:30- 4PM
RBG [2018]
At the age of 85, U.S. Supreme Court Justice Ruth Bader Ginsburg has developed a lengthy legal legacy while becoming an unexpected pop culture icon. But the unique personal journey of her rise to the nation's highest court has been largely unknown, even to some of her biggest fans - until now. RBG explores Ginsburg's life and career.
FILM SCREENING:  4:30-6:30PM
HIDDEN FIGURES [2016]
Before a computer became an inanimate object and before Sputnik changed the course of history, before the Supreme Court case Brown v. Board of Education established that separate was in fact not equal, and before the poetry of Martin Luther King Jr.'s "I Have a Dream" speech rang out over the steps of the Lincoln Memorial, a group of black women working at the Langley Memorial Aeronautical Laboratory in Hampton, Virginia were helping America dominate aeronautics, space research, and computer technology, carving out a place for themselves as female mathematicians who were also black, black mathematicians who were also female. Hidden Figures is their story. Directed by Theodore Melfi, starring Taraji P. Henson, Octavia Spencer, Janelle Monáe and Kevin Costner.
FILM SCREENING:  7-9PM
WORKING GIRL [1988]
Savvy New York City receptionist Tess McGill (Melanie Griffith) gives her conniving boss, Katharine Parker (Sigourney Weaver), an excellent business tip, but Katharine simply steals the idea without giving due credit to her secretary. After Katharine winds up in the hospital with an injured leg, Tess decides to exact revenge. Pretending to be her boss, Tess initiates a major deal with an investment broker (Harrison Ford) -- but things turn ugly after Katharine finds out what Tess has been up to. Directed by Mike Nichols, starring Melanie Griffith, Sigourney Weaver, Harrison Ford, and Joan Cusack.