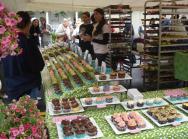 Event will take place at Wright's Farm this year
Gardiner, N.Y.
- The Gardiner Cupcake Festival, a popular annual event that offers a variety of fun activities for residents and visitors, will take place this year on May 19 at Wright's Farm. "In just a few short years, the Gardiner Cupcake Festival has become a local favorite here in Ulster County, and many of our area's visitors also take part," said Ulster County Executive Mike Hein. "This is an event for visitors to experience what our region is all about, with local shopping, great food and fun activities for all." The very first Cupcake festival in the Hudson Valley, the Gardiner Cupcake Festival features a variety of cupcake vendors who combined bring over 30,000 cupcakes. New to the festival this year is a cupcake eating contest in addition to the ever popular amateur cupcake contest. Amateur cupcake makers from around the Hudson Valley will be judged in such categories as: Best Decorated cupcake; Best Tasting cupcake; Best Tasting Vegan cupcake; Best Gluten Free cupcake; and Most Creative cupcake. The event, which was first held in 2009, is a day full of cupcakes, food, music, local vendors, wine tastings and activities for children. Previously held on Main Street in Gardiner, this year the festival moves to Wright's Farm, a much larger venue to allow for more cupcakes and fun. Wright's Farm is a 453-acre farm with a 200 year history and is currently run by three generations of the Wright Family. With the new location the ability to expand the event has become possible, this year - in addition to more than 15 cupcake vendors - there will be more activities for kids including face painting, cupcake decorating, helicopter rides, pony rides, wagon rides, bouncy house. "We are thrilled to host the Gardiner Cupcake Festival and are looking forward to another great event this year," said Tammy Wright-Boylan of Wrights Farm. "This is not only a fun event for local residents and families, but also for those who are visiting our area. We hope to showcase all that Ulster County has to offer when it comes to sweets, wines, shopping and more." In addition to cupcakes from Wright's Farms the festival will showcase creations from Deising's Bakery in Kingston, Main Course in New Paltz, Sweet Maresa's Upstate Cupcake in New Paltz, Crave Cupcakery Bakery in Bloomingburg and Bettie's Cakes from Saratoga Springs who will be  returning with its popular double-decker bus. Other food vendors include Full Moon Farms, Meadow View Farms, Pasquale Pizza, Twisted Pretzels and the Village Market and Bakery. There will even be cupcake flavored ice cream from Lazy Crazy Acres, a boutique, family-owned Catskill Mountain farm and creamery based in Halcott Center. "Each year the Gardiner Cupcake Festival continues to impress us with the variety of special treats there are to eat in Ulster County," said Richard J. Remsnyder, director of Ulster County Tourism. "This year's event promises to be even larger and tastier." The Gardiner Cupcake Festival will take place on Saturday, May 19
th
from 12 to 6 p.m., rain or shine. The event is free this year with a small donation for parking. Proceeds of this year's event will benefit the Gardiner Fire Department and Rescue Squad. Wrights Farm is located at 699 State Road 208 in Gardiner. For more information, visit
www.facebook.com/gardinercupcakefestival
.
###
About Ulster County Tourism
Ulster County, located less than 90 minutes from midtown Manhattan, has 250,000 of forever-wild acres encompassing 35 peaks and 350 miles of hiking trails. From biking to hiking, from kayaking to wind surfing, from hitting the sweet spot on one of our 12 golf courses to horseback riding and fly-fishing, it is truly a four-season recreation area. The county's rural vistas provide beauty for each one. Learn more at
http://www.ulstercountyalive.com/
Photo:
2011 Gardiner Cupcake Festival
Contact
:
Richard J. Remsnyder Ulster County Tourism 845-340-3566
rrem@co.ulster.ny.us