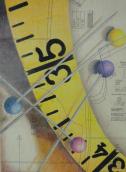 Glens Falls, N.Y.
- One hundred works from more than 1,114  entries by area high school art students are now exhibited in
The Juried Show: 22st Annual Regional Juried High School Art Exhibition
at The Hyde Collection, 161 Warren Street, Glens Falls, New York.  Curated by Hyde curator of education June Leary, the show runs through Saturday, May 25, 2013 in the Wood Gallery.  The young artists who entered the competition hail from twenty-two school districts throughout Warren, Washington, Saratoga, Hamilton, and Essex counties. Entries were submitted digitally for review by a jury composed of the following arts professionals: Nick Paigo, Associate Professor of Graphic Arts, Technology Division at SUNY Adirondack; Margaret Bollendorf - Lead Scenic Artist, Adirondack Studios, Inc.; and Ivey Barker, Artist Programs Coordinator and Curator at Salem Art Works Sculpture Park. The Hyde Collection's director Charles Guerin noted, "These talented students are the working artists and creative professionals of tomorrow. This exhibition is not only a showcase of students' talent and creativity but is also designed to allow them to experience the preparation, submission, and adjudication process crucial to their artistic development." All students with art in the exhibition will be recognized at that event and the following students will be highlighted for winning special awards. The Best in Show category was awarded to Allison Havens for
Time to Sew,
colored pencil, 18" x 24", Argyle Central School, Grade 11, Teacher: Rick Fleury. Other categories for special awards include The Curator's Choice Award, CR Bard Foundation Curator's Choice Award, The Juror's Show Committee Choice Award, and The Honorable Mention Award. An Awards Ceremony will be held for the students and their families at The Hyde Collection on Sunday, May 19, 2013 from 2 - 4pm. Students and their families will be admitted free. Both
The Juried Show
exhibition and Award Day are sponsored by C.R. Bard. For more information contact June Leary, Hyde curator of education, at 518-792-1761, ext. 327 or
jleary@hydecollection.org
or Alice Grether, director of marketing and communication, at 518-792-1761, ext. 328 or
agrether@hydecollection.org
. * High resolution image attached.
Contact:
Alice Grether Director of Marketing & Communication The Hyde Collection 161 Warren Street Glens Falls  NY  12801
www.hydecollection.org
               p   518  792  1761 ext  328 f    518  792  9197