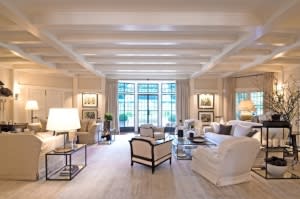 Saturday, June 2, 2018
House Tour: 1pm - 4pm & Reception: 4:30pm - 6pm
Southampton, N.Y. – From a lakefront gabled home to a recently renovated the turn-of-the-century residence, the Southampton History Museum's ninth annual "Insider's View" house tour on Saturday, June 2, will offer a unique opportunity to enter and admire a few of Southampton's most extraordinary architectural gems. Attendees will have a rare chance to view stunning interiors furnished with flair, whether the owner favors a high-style contemporary look, classic elegance or an eclectic approach that reflects the personal style of a connoisseur. An early-season highlight on the Hamptons social calendar, the tour is a favorite with design mavens and others who come in search of inspiration and a good time.
Houses are open June 2 from 1 to 4 p.m., after which attendees are invited to a champagne reception, catered by Sant Ambroeus restaurant, beginning at 4:30 p.m. in the beautiful Rogers Mansion at 17 Meeting House Lane in Southampton. 
The price is $95 in advance & $110 day of the tour.
Tour participants will experience six extraordinary houses that illustrate Southampton's unique architectural history from colonial days to present. Participants also have the opportunity to tour the 1648 Thomas Halsey Homestead and Saint Andrew's Dune Church. A champagne reception catered by Sant Ambroeus will follow the tour at 4:30PM at the Rogers Mansion.
Houses on the tour include:
Village Gem
This handsome home sits on nearly an acre, property where Captain E. Halsey, after his last whaling voyage on the Ship Franklin, built a home in 1848. Today's house and grounds boast all the amenities of modern times, while giving a nod to the property's rich history. Smaller rooms retain a cozy, traditional look, while a spacious wing with glass-paned French doors is light-filled and furnished with a sofa and chairs that beg to be sunk into.
On the Waterfront
This gabled home, with its soft-grey exterior palette and pebbled circular drive, makes a dignified, almost understated, impression on the approach. What you don't see until you stroll to the back is its exquisite setting. That is where well-tended grounds meet the water's edge offering an unrivaled view across Lake Agawam. With its stylishly tailored interior, its third-floor game room, and plenty of outdoor seating, it is the perfect summer retreat for all ages.
Three Chimneys
Built in 1927, this village house with its satisfying symmetry, has been updated while respecting its original details, including built-in cabinetry and a pantry. The design-conscious owners had a bright, sunny interior to work with, and chose a mixture of custom designer furnishings and antiques for rooms that reflect their artistic sensibilities. For their light-filled rooms they have chosen plenty of pastel, beachy colors.
Soaring Cedars
The creative owners of this woodland retreat enlarged a relatively modest-sized house, raised the ceiling in the master bedroom, and added beams in the family room to achieve the airy look they were aiming for. Furnishings were chosen with comfort in mind but always imaginatively. Among their favorites are a lovely Art Deco chair and a stunning capiz-shell ceiling fixture. The grounds were given a major overhaul, leveled and planted to create a versatile, relaxing landscape surrounded by tall evergreens. A pool and an outdoor lounge complete the picture.
Pink Charmer
This recently built pink charmer is a pure delight filled with whimsical details. No surface has been left unadorned, from the two-story foyer with its wallpaper featuring huge palm leaves to the custom-tile fireplace surround, which was hand-copied to match the swag wallpaper border. The master suite features his-and-hers exquisitely appointed bathrooms and custom closets. The spacious living room and sunroom reference the roses and other flowers that surround the pool, which, with its cabana, evokes the glamor of times past.
Linden
Unequivocally one of Southampton's foremost estates, Linden, designed by the renowned New York architect Grosvenor Atterbury, has lost none of its early 20th-century grandeur, while acquiring all the modern luxuries of life in the 21st Century. Atterbury, who designed some of the most beautiful houses, clubs, and buildings in America, was a summer resident of Southampton where his most familiar legacy is the beautiful building he designed for the original Parrish Art Museum. To enter into Linden's nearly 18,000 square feet of living space, a visitor passes through a grand hall and into the main living room. There, and throughout the interior, original millwork and massive fireplaces have been preserved, giving the mansion a timeless grace. Glass doors in the living room offer a view of the estate's nearly 10 park-like acres, beautifully landscaped with mature trees, flowering shrubs, evergreen perimeters and rose gardens. Resort-like amenities include indoor and outdoor pools, tennis and paddle courts.
The Thomas Halsey Homestead
New York State's oldest English-style house was a farm established by Thomas Halsey in 1648, one of Southampton's original settlers. Today Halsey House is managed as a historic house museum by the Southampton Historical Museum. It provides an authentic setting to exhibit furnishings and tools that would have been used by a prosperous farming family during America's Colonial Period. Behind the house is a Colonial-style herb garden.
St. Andrew's Dune Church
The Church is located at the foot of Lake Agawam and is one of Southampton's most picturesque landmarks. Originally built as a life-saving station, it was acquired by Dr. T. Gaillard Thomas and donated as a church in 1879. A local carpenter was hired to create its beautiful rustic interior, which is filled with treasures, not the least of which are its 11 Tiffany widows. The church has come under assault from raging seas on several occasions, including in 1938 when it was nearly destroyed by that year's terrible hurricane. It was lovingly restored and has twice been moved back from the sea. Though it is non-denominational, its summer services are organized under the direction of Southampton's Episcopal Church.
###
CONTACT: Tom Edmonds 631-283-2494; tedmonds@southamptonhistory.org