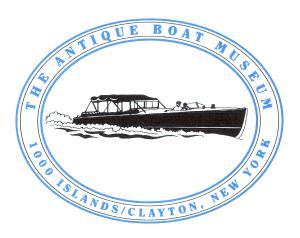 Clayton, NY (July 21, 2020) – The Antique Boat Museum (ABM), North America's premier freshwater boating museum based in Clayton, NY, announces the routes for the Boats on Parade taking place Saturday, August 1st.  Antique and classic boats in the region as well as those able to come from outside the North Country are invited to join ABM in two parades around the Islands.  Boats will begin to gather in Clayton's French Bay/at ABM at 8am for the morning parade and will depart at 9:30am to make their way downriver through the American Narrows to Deer Island and back.  The evening route will depart ABM/French Bay at 5pm for a clockwise circumnavigation of Grindstone Island.  Charts of the routes can be found at abm.org on the Boat Show event page.  Below is a list of estimated times when the parades will be passing certain locations.
American Narrows Route:
9:30AM – Depart ABM
9:35AM – Clayton Waterfront
9:45AM – Round Island "Frontenac" Post Office
10AM – T.I. Park Pavilion
10:15AM – American Span of the Thousand Islands International Bridge
10:30AM – Keewaydin State Park
10:45AM – Alexandria Bay Scenic View Park
11AM – Mary Island State Park
11:15AM – Boldt Castle on Heart Island
12:00PM – Fisher's Landing
12:15PM – Washington Island
12:20PM – Return to ABM
Grindstone Route:
5:00PM – Depart ABM
5:30PM – Potters Beach*
6:00PM – Canoe/Picnic Point State Park
6:15PM – Murray/Wellesley Island Narrows
6:30PM – Round Island "Frontenac" Post Office
6:40PM – Clayton Waterfront
6:45PM – Return to ABM
Note: Times for viewing the parades at different locations are estimated on an average cruise speed of 10 knots.
*Please note that Potter's Beach is currently closed to the public due to the COVID-19 pandemic and is on this list as a schedule reference point only.
###
About ABM
Located on the St. Lawrence River in Upstate NY, ABM features a collection of over 300 antique and classic boats and thousands of recreational boating artifacts. Each summer the waterfront campus comes alive with numerous educational programs and special events, including the longest running antique boat show in North America. For more information, please visit the Museum's website at abm.org.
Contact:         
Caitlin Playle, Events and Communications Coordinator
315.686.4104 x236