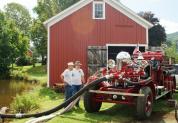 September 7 Festival celebrates the ingenuity of the past and present
East Meredith, N.Y. -
Start your engines! Hanford Mills Museum will host the 30th Annual Dan Rion Memorial Antique Engine Jamboree and Powerfest on Saturday, September 7 from 10 am - 5 pm. Visitors can see a variety of working steam- and gas-powered antique engines. The Museum's wood-fired steam boiler plant will power the horizontal and vertical steam engines. The event will also feature Mill tours, renewable energy exhibits, great food, children's activities, and live music with the Stoddard Hollow String Band. The Jamboree features  a 1930 Model A Ford, 1931 Model A Roadster, 1916 Stoyer Drag Saw, 1926 Ahrens Fox Pumper, 1950 Page Tractor, model steam engines, outboard motors from the 1920s-1940s and model boats. Visitors can chat with the collectors, many of whom have spent hours restoring engines. The New York Power Authority and Equity Energy will be on hand to discuss renewable energy options and how to make homes and businesses more energy efficient. Eagle Ridge BBQ will offer food for sale. Stoddard Hollow String Band will perform from 12:30 pm  to 4:30 pm and there will be special children's activities throughout the day. The Museum's 70-acre site will be open to explore. The Jamboree is included with regular Museum admission, which is free for children 12 and under, and Museum members. This season Hanford Mills Museum also will host a Pie Social celebrating its 40
th
anniversary on Saturday, September 22, the Miller's Harvest Festival and Folkways Fair on Sunday, October 13 and several hands-on workshops. For more information, go to
http://www.hanfordmills.org/
, or call
607.278.5744
.
About Hanford Mills Museum
Hanford Mills Museum is open 10 am - 5 pm, Wednesdays through Sundays, and on holiday Mondays through October 14. Hanford Mills Museum is located at 51 County Hwy. 12, at the intersection of Delaware County Routes 10 and 12, in East Meredith, NY, 10 miles from Oneonta and 15 miles from Delhi. Children 12 and under are admitted free, as are Museum members.  The admission fee for adults and teens (13-64) is $8.50; and for senior citizens, $6.50. AAA and military discounts are available. As one of only a handful of operating water-powered mills, Hanford Mills Museum has earned a place on both the National and New York State Registers of Historic Places.  The mission of Hanford Mills Museum is to inspire audiences of all ages to explore connections between energy, technology, natural resources and entrepreneurship in rural communities with a focus on sustainable choices.  For more information, visit
http://www.hanfordmills.org/
or call 607.278.5744. ###
CONTACT: Liz Callahan,
lizc@hanfordmills.org
607.278.5744
http://www.hanfordmills.org/
www.Facebook.com/HanfordMillsMuseum
Calendar Listings
September 7, 10 am - 5 pm
Antique Engine Jamboree & Powerfest
Hanford Mills Museum 51 County Hwy 12 East Meredith, NY
http://www.hanfordmills.org/
607/278-5744 or 800/295-4992 See antique engine enthusiasts from across the region exhibit their steam & gas engines, and tour the Mill powered by the Museum's steam boiler and steam engines. Children's activities, food by Eagle Ridge BBQ, and music by the Stoddard Hollow String Band. Festival and activities are included with regular admission. Children 12 and under receive free admission.
CONTACT:
Liz Callahan 607.278.5744
lizc@hanfordmills.org