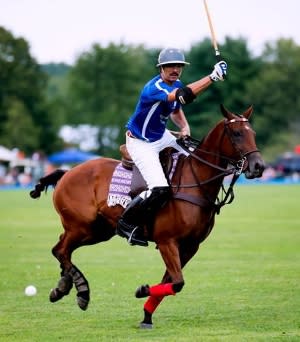 Pre-Show events include Argentine polo players and horses and asado
Film Forum screening of Un Tango Mas (One Last Tango) and tango lessons on July 22 at Spa Little Theater
Saratoga Springs, N.Y. – A celebration of Argentinian culture and traditions will surround the July 20 SPAC debut of percussive dance troupe Che Malambo with special pre-show features that include a pre-performance display of Argentine horses and polo players on the lawn, an Argentine asado and authentic cuisine at the Hall of Springs restaurant. The Film Forum @ SPAC will also present the acclaimed film Un Tango Mas along with tango lessons at the Spa Little Theater on July 22. Tickets and more information are available at spac.org.
"The excitement generated by the upcoming performance of the all-male Argentinian percussive dance troupe Che Malambo inspired us to create additional opportunities for the public to explore and enjoy the richness of the Argentinian culture," said Elizabeth Sobol, President and CEO of Saratoga Performing Arts Center. "Before Che Malambo dancers take the stage, guests will be able to sample grilled specialties from an asado while watching some of Argentina's best polo players strolling the grounds with their beautiful horses, all courtesy of our friends at Saratoga Polo and Alfa Romeo. Two nights later, the art form of tango takes center stage with a Film Forum screening of the iconic film Un Tango Mas at the Little Theater, followed by tango lessons."
Much like the sport of polo, the South American Malambo – the inspiration for Che Malambo – originated from the prominence of horses in the country's cultural heritage and traditions. The Malambo blends precision footwork, rhythmic stomping, drumming and song, which originated with the South American gaucho, or cowboy.  Malambo began in the 17th Century as competitive duels that tested skills of agility, strength and dexterity among the gaucho. It soon evolved to include its hallmark zapeteo -- the fast-paced footwork inspired by the rhythm of galloping horses.
Another dance tradition with deep roots in the culture is the tango, the most famous of all Argentinian dances. Un Tango Mas, ("Our Last Tango") is a 2015 documentary about the life and love story of Argentina's famous tango dancers Maria Nieves Rego and Juan Carlos Copes, who met as teenagers and danced together for nearly fifty years, even through several painful separations. The two dancers tell their story in this documentary which is interspersed with tango-choreographies which complement their soul-searching interviews. For this special screening, the Film Forum will host pre- and post-receptions that include food, drink and tango lessons at the Spa Little Theater. The schedule:
6:30 – 7:15 p.m. Music, dancing and refresher tango lessons with Tango Fusion founders Diane & Johnny Martinez.
7:30 – 9 p.m. – Film screening, Un Tango Mas
9 p.m. – 11 p.m. – Tango and Latin dancing, plus dessert and refreshments
Tickets for Saratoga Film Forum can be purchased in advance for $15 at saratogafilmforum.org or at the door for $20.
Tickets for Che Malambo can be purchased at spac.org, by calling 518-584-9330, or at the Route 50 Box Office.
Photo: On July 20, Argentinian horses and polo players will greet guests prior to Che Malambo's performance.  
###
National Press Contacts:
Rebecca Davis Public Relations – 727-289-7449
Rebecca Davis 347-432-8832 (m.)
Liza Prijatel Thors  917-672-2048 (m.)
Regional Press Contact:
Lisa Hill – 518-584-9330 ext. 125
518-496-2882 (m.)