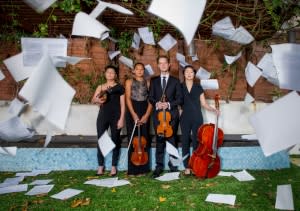 Award-winning quartet brings innovative concert program to Cooperstown audiences
Cooperstown, N.Y. – The Argus Quartet, a versatile and dynamic up-and-coming ensemble, will perform at Christ Episcopal Church on Sunday, May 6 at 4pm as part of the Cooperstown Summer Music Festival's 20th anniversary season.
Recent first-prize winners at both the 2017 Concert Artists Guild Victor Elmaleh Competition and the coveted 2017 M-Prize Chamber Arts Competition, the Argus Quartet is currently in the first year of a two-year appointment as the Graduate Quartet in Residence at the Juilliard School, where they work closely with the illustrious Juilliard String Quartet.
The quartet will bring to Cooperstown an innovative program entitled 'Visions and Miracles' featuring selections of music that draw from philosophical, divine, ancient, and otherworldly sources. A diverse array of works will be performed, representing composers spanning the Renaissance to the present, including Josquin, Haydn, Mendelssohn, Theofanides and Knox.
This concert's program is representative of the Argus Quartet's commitment to honoring the traditions of chamber music's past while also forging a new path forward.  "The pieces we will perform span a period of almost 500 years," says Dana Kelley, the quartet's violist. "We are hoping our audience gets a glimpse of the varied, and sometimes similar, techniques composers from such diverse time periods use to convey these intangible themes."
The group considers the string quartet to be uniquely positioned to transmit the lofty ideas around which their program is formed. "The string quartet has profound communicative possibilities and has long been acknowledged as among the most intimate and expressive combinations of instruments," says Jason Issokson, the first violinist.
The close relationship between quartet players is also a large part of what draws musicians to a career of quartet playing, a fact supported by the Argus Quartet's website, which boasts metrics on the number of meals, rehearsals hours, and "bursts of laughter" the group has shared.
"We know each other on a very deep level," says Kelley. "We react in real time to each other's musical instincts during our performances."
Those curious to get to know the Argus Quartet are invited to attend CSMF's May 6th concert, where the audience will be able to witness the power of this intimate relationship firsthand.
Visions and Miracles: Argus Quartet
Sunday, May 6 at 4pm, Christ Episcopal Church 46 River Street, Cooperstown
The Argus Quartet, one of today's most dynamic and versatile ensembles, will offer an innovative program of music. Drawing five centuries of inspiration from philosophical, divine, and ancient sources, the 75 minute program includes works by Josquin, Haydn, Mendelssohn, Theofanides and more.
Felix Mendelssohn                                                                String Quartet No. 1 in E flat Major, Opus 12
Josquin des Prez (arr. Charles Wuorinen)              Josquiniana
Franz Josef Haydn                                                                   String Quartet Op. 33, No. 1 in B Minor
Christopher Theofanides                                                  All Joy Wills Eternal from "Visions and Miracles"
Augusta Read Thomas                                                                           Chi 
Garth Knox                                                                                  Satellites  
The Argus Quartet: Jason Issokson and Clara Kim, violins, Dana Kelley, viola, Joann Whang, cello
TICKETS:
Tickets are $25 for adults, $10 for students, including college students with ID.
Purchase online at www.cooperstownmusicfest.org; by phone through Brown Paper Tickets, (800) 838-3006, or at the door.
There is no service charge for tickets purchased online or by phone.
ABOUT THE COOPERSTOWN SUMMER MUSIC FESTIVAL:
Founded in 1999, the Cooperstown Summer Music Festival has been bringing world-class chamber music performances to the Cooperstown area for 20 years. The festival has featured performances by the Tokyo String Quartet, the American String Quartet, the St. Lawrence String Quartet, Kurt Elling, Tim Fain, Bill Charlap, Hilary Kole, Simone Dinnerstein, Mark O'Connor, the Sonia Olla Flamenco Dance Company, and many more.
Cooperstown is home to the National Baseball Hall of Fame and Museum, the Glimmerglass Festival, and the Fenimore Art Museum as well as many galleries, restaurants, and a historic Main Street.
Concerts are held in venues across Cooperstown, including Christ Church (the church of author James Fenimore Cooper) and the ballroom of the grand Otesaga Hotel.
Celebrated graphic artist Milton Glaser (best known for the I Y NY campaign) has created a series of 17 posters for the Festival featuring violins and cows, a nod to Cooperstown's rural character. Performance Today host Fred Child has said, "Not only do they do interesting concerts, they have great posters."
The Cooperstown Summer Music Festival is made possible by the New York State Council on the Arts with the support of Governor Andrew Cuomo and the New York State Legislature.
See cooperstownmusicfest.org for details.
ARTIST PHOTOS:
A publicity photo for the Argus Quartet can be downloaded here:
https://drive.google.com/file/d/0B3AHCZfA3_QoQ3lTYWNlMEk2Qnc/view?usp=sharing
For additional information or artist photos, please contact Katie Dryden at katharine.dryden@gmail.com or (716) 572-2993.
###
Contact: Katie Dryden, katharine.dryden@gmail.com or 716-572-2993