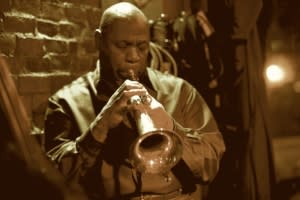 Saratoga Springs, NY (August 23, 2018) — The Frances Young Tang Teaching Museum and Art Gallery at Skidmore College invites the public to the final concert of the 2018 Upbeat on the Roof concert season, at 7 pm Thursday, August 30, with the Arthur Brooks Ensemble V.
The Arthur Brooks Ensemble V is an improvisational jazz group led by musician, composer, trumpeter/flugelhornist Arthur Brooks. Founded at Bennington College in 1973, its current members are recognized professionals who have performed nationally and internationally. They combine improvisation with composition to craft unique and exciting pieces that keep audiences guessing. This is the ensemble's Upbeat debut.
Performances are free and open to the public. The rooftop is accessible via the museum elevator or outdoor staircases. Due to the popularity of the Upbeat concerts, visitors are advised to arrive early to ensure a seat. In case of inclement weather, the concert will be held inside the museum.
For more information, call 518-580-8080 or visit http://tang.skidmore.edu.
About the Tang Teaching Museum
The Tang Teaching Museum at Skidmore College is a pioneer of interdisciplinary exploration and learning. A cultural anchor of New York's Capital Region, the institution's approach has become a model for university art museums across the country—with exhibition programs and series that bring together the visual and performing arts with fields of study as disparate as history, astronomy, and physics. The Tang has one of the most rigorous faculty-engagement initiatives in the nation, the Mellon Seminar, and robust publication and touring exhibition initiatives that extend the institution's reach far beyond its walls. The Tang Teaching Museum's building, designed by architect Antoine Predock, serves as a visual metaphor for the convergence of ideas and exchange the institution catalyzes. The Tang is open Tuesday through Sunday, from noon to 5 pm, with extended hours until 9 pm on Thursday. More information at http://tang.skidmore.edu.
Media Contact
Michael Janairo
Assistant Director for Engagement
Tang Teaching Museum
at Skidmore College
518-580-5542