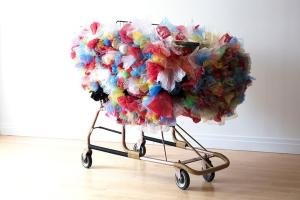 Auburn, NY (March 12, 2023) – Artist Theda Sandiford channels microaggressions – commonplace verbal, behavioral or environmental slights, whether intentional or unintentional, that communicate hostile, derogatory, or negative attitudes toward stigmatized or culturally marginalized groups – she faces every day into her artwork.
Riding on the New York City subway, she has had her hair touched without permission too many times to count. When she gets out of car at her condo development in New Jersey, she often is asked where she lives. "Have you ever been followed by security while shopping? I am followed all the time," she said. "So much so, I now avoid retail and do most of my shopping online."
The resulting exhibition, "Triggered, Truth & Transformation," will be on display at the Schweinfurth Art Center in Auburn, NY, from March 25 to May 28, 2023. Sandiford will be holding a rope-making workshop at 10:30 a.m. Saturday, April 29, at the Schweinfurth. The event will be part artist talk, part demonstration, and part group discussion of microaggressions. The workshop is expected to last 1.5 hours and is free and open to the public, but registration is required.
Both the exhibit and the workshop seek to help people release the pain of microaggressions, Sandiford said. "For me, microaggressions Trigger a trove of racial trauma," she continued. "I share my Truth through my art to illuminate the stories behind these disempowering moments, thereby Transforming the sting of daily microaggressions into healing."
The exhibit includes pieces from two of her series: "I Am My Hair" and "Emotional Baggage Carts." "I Am My Hair" grew out of people touching her hair without asking. "Touching my hair without asking is an invasion of my personal space," Sandiford said. "It makes me feel like an animal or chattel on display.
"Black hair has long been politicized," she continued. "Historical perceptions and respectability politics still have deep ramifications in society today. Braids, locs, and natural hair are not considered professional by white standards of beauty." These pieces feature hair-like clusters of cotton rope wrapped and hitch knotted with yarn, recycled sari thread, plastic cord, trim, ribbon, sequins, and pom-poms.
The soft pieces visually entice the viewer to touch while their placement in a gallery is a reminder not to touch. "The irony of this brings me great joy," Sandiford said. "The ropes are an allegory for my hair story."
With "Emotional Baggage Carts," Sandiford releases the stress, anger, frustration, and powerlessness of all these microaggressions as she weaves recycled materials – including rope, paracord, grocery bags, rope lights, beads, fabric, and bottle caps – into abandoned grocery carts that she picks up and refurbishes. "For me, my Emotional Baggage Carts are vessels to dispel trauma," she said.
"All these interactions sap my psychological and spiritual energies until I exist only as a shell of myself," she said. "I often feel powerless to confront these subtle acts of discrimination. If I defend myself, I face the consequence of being labeled as a 'Angry Black Woman' just for speaking up."
A key part of Sandiford's exhibit is the public textile art project "Free Your Mind." Participants are invited to write a story about a microaggression they have experienced onto a ribbon and tie it to retired fishing net to release the story from their personal narrative.
"The installation evolves with each new story ribbon, keeping a public record of these conversations" she said. "Participants have the feeling of being seen and acknowledged while interacting with the work."
Begun in 2021 in Jersey City, NJ, the project will visit Wa Na Wari in Seattle, WA; Krasl Art Center in Joseph, MI; and the Mid Atlantic Fiber Conference in Millersville, PA, after the Schweinfurth.
"My ultimate goal is for this project to visit every state and document the story ribbons collected on an interactive website as a permanent public record of this project, memorializing microaggressions and overlaying local census data to reveal bias trends prevalent in local communities," Sandiford said. 
If you have a story to tell, come to the Schweinfurth Art enter during gallery hours and write out a ribbon, or add it to Sandiford's growing database by completing an online form at bit.ly/FreeYourMindArt.
This exhibit is sponsored, in part, by the New York State Council on the Arts with the support of the Office of the Governor and the New York State Legislature and the National Endowment for the Arts.
If you go …
WHAT: "Triggered, Truth & Transformation" exhibition by artist Theda Sandiford
WHEN: March 25 to May 28, 2023
WHERE: Schweinfurth Art Center, 205 Genesee St., Auburn
OPENING: 5 to 8 p.m. Saturday, March 25, 2023
ARTIST TALK: Talk and rope making workshop 10:30 a.m. to noon April 15, 2023; space is limited, and registration is required by calling 315-255-1553
GALLERY HOURS: 10 a.m. to 5 p.m. Wednesdays through Saturdays and 1 to 5 p.m. Sundays
ALSO ON DISPLAY: "Made in NY 2023," a juried exhibit of New York State artists, and "Positive, Negative, Shallow and Deep" by Tyrone Johnson-Neuland, an Emerging Artist Project exhibition at the Schweinfurth and Cayuga Museum of History & Art
COST: Opening is free; artist talk is included with admission; admission is $10 per person; Schweinfurth members, participating artists, and children 12 and under are always free
###
Note to editors
High-res images to accompany this story can be downloaded from the following Dropbox folder: https://www.dropbox.com/scl/fo/mrzbhochygg4vsztgkyc5/h?dl=0&rlkey=3hmdupz3nzch53f6wtac3oyaw
About the Schweinfurth
The Schweinfurth Memorial Art Center is a multi-arts center that opened in 1981 thanks to a bequest from Auburn-born architect Julius Schweinfurth. The art center's programs include more than a dozen exhibitions each year and educational programs for children and adults, which feature local, national, and international artists. For more information, link to schweinfurthartcenter.org.
Image: "Power Puff, Black Racing Stripe Baggage Cart" is part of artist Theda Sandiford's "Emotional Baggage Cart" series. With this series, Sandiford releases the stress, anger, frustration, and powerlessness of microaggressions as she weaves recycled materials into abandoned grocery carts that she refurbishes. Microaggressions are actions or conversations, intentional or unintentional, that communicate hostile or negative attitudes toward marginalized groups.
For more information, contact:
Maria Welych, Marketing Director
Schweinfurth Art Center
315.255.1553 w. | 315.380.6472 m.