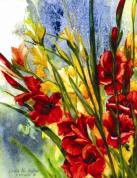 Gloversville, N.Y.
- The second annual Downtown Gloversville Art Fair and Sale will be held on Saturday, June 19, from 8 A.M. until 2 P.M.  Tents for the event will be located in the park located between Elm and North Main Streets, directly across from the Gloversville Farmers' Market- rain or shine!  The event is free and open to the public and is co-sponsored by the Gloversville Downtown Business Improvement District (BID) and the Sacandaga Valley Arts Network (SVAN). Artists will be offering watercolors, oil and acrylic paintings, drawings, mixed media and collage work, eggshell mosaics, photographs, digital art, pottery, hand wrought silver and bead jewelry, exotic wood pieces and furniture. Participating artists include Dolores Haberek, Juliette Konieczny, and Dorothy Quick of Amsterdam, Linda and Molly Biggers, of Broadalbin; Lisa Nortz of Croghan; Dorothea and Raymond Froese of East Rockaway; Leslie Sittner of Edinburg; Bethany Gessinger and Linda Kollar of Fultonville; Cheryl Bielli, Bill Case, Michael Hine, Nancy LaPorta, and Peter Schoonmaker of Gloversville; Norma Porteus of Hadley; Susy Easterly, Linda Hinkle and Linda Naske of Johnstown; Ken Gadway of Morrisville; Judy Olson of Northville; Bruce and Cathy Thomas of Remsen; Kathryn Bartscht of St. Johnsville; Ginger LaFreniere and Bradford Smith of Schenectady. From 10:30-11:00 A.M. and also 12:30-1:00 P.M. Fran Berger of Schodack, a member of the Story Circle of the Capital District, will offer storytelling for children of all ages. For more information about the event, visit SVAN's website at
http://www.svanarts.org/
or find information about the Gloversville Downtown Business Improvement District at
http://www.gloversvillebid.com/
.
###
Photo
: Thurston's Garden By Linda M. Kollar, Watercolor on Illustration Board, 8" x 10"
Contact
:  Linda Hinkle, Sacandaga Valley Arts Network (SVAN), (518) 762-4893; Wally Hart, Gloversville Business Improvement District, (518) 725-0641