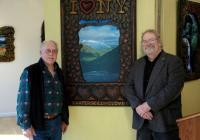 Evocative photograph of Kaaterskill Clove graces cover of I LOVE NEW YORK Travel Guide
Albany, N.Y.
- When renowned landscape photographer Fran Driscoll returned a phone call from the New York State Division of Tourism inquiring about the use of one of his photographs of the Catskills, the first thing he heard on the other end of the line was, "I LOVE NEW YORK" - to which he replied, "I love New York, too!" That marked the beginning of a wonderful collaboration that would see Driscoll's stunning photograph of a rainbow over Kaaterskill Clove in Greene County become the cover of the
2012 I LOVE NEW YORK Summer Travel Guide
, now available free from Empire State Development. "The image we chose for the I LOVE NEW YORK Travel Guide cover is not only a compelling photograph meant to attract tourists to New York State and the Catskills region, but is a reminder of the timelessness and wonder of nature in a region recovering from the physical devastation by the 2011 storms," said Edward Maitino, Director of Tourism for Empire State Development, which administers the I LOVE NEW YORK program. Driscoll has been photographing the region he loves and calls home for about 25 years and is the author and photographer of the book
Images of the Northern Catskills
, which perfectly captures the region's stunning natural beauty. Following the devastation to the region by hurricanes Irene and Lee, Driscoll teamed up with friend and internationally-recognized folk artist Michael Lavery. Both had been deeply affected by the hurricane and its aftermath. They were struck by witnessing not only by the mindless devastation of the storms, but also by the cooperative efforts of family, friends and strangers to come together and help each other endure the destruction and rebuild. These observations were the spark that got them thinking about collaborating with other area artists to express a cooperative artistic re-creation of the same incredible and beautiful grassroots phenomena they had witnessed. The result is
Keeping It Greene!
, an exhibition of Lavery's amazingly creative frames made of found wood and debris left in the hurricane's path built around Driscoll's evocative pre-flood photographs of Greene County. The theme of the works on view might be summed up by saying that these pieces are witness to a sense of wonder and respect - that out of such terrible havoc that has been inflicted on Greene County and throughout the Catskill Region, the generosity of spirit and the natural good will of mankind emerged magnified far greater than material destruction and painful human loss. Through June 3, 2012,
Keepin' It Greene!
is featured at Kaaterskill Fine Arts, Route 23A (Main St.) in Hunter, N.Y. Gallery hours are Thursday-Saturday 10 a.m. - 5 p.m., and Sunday 10 a.m. - 4 p.m. (closed Monday-Wednesday). For more information call (518) 263-2060 or email:
walshs@catskillmtn.org
or
mailto:gallery@catskillmtn.org
. On May 19 from 2-3 p.m., Driscoll and Lavery will speak about their intertwined vision of the quintessential Catskills of Greene County in a special Art Talk held at the gallery. The Kaaterskill Fine Arts Gallery is part of The Catskill Mountain Foundation, which was founded in 1998 with a goal to enhance the arts experience in the Great Northern Catskills through performing arts programs, artist residencies, and educational enrichment programs. One of the pieces featured in the exhibit is Driscoll's beautiful photograph of Kaaterskill Clove framed by a wooden representation of the world famous I LOVE NEW YORK logo. The artists presented this work of art as a gift to the people of the State of New York At the exhibition's opening. There's no doubt that Driscoll loves practicing his trade in New York State: "Photography in New York State is dynamic. Like soup to nuts, it has everything from beaches on Long Island to the mountains in the Catskills. It's not boring."

2012-2013 I LOVE NEW YORK Travel Guide Now Available
In addition to featuring Driscoll's beautiful cover photograph of Kaaterskill Clove, this year's
I LOVE NEW YORK Travel Guide
is packed with fun and exciting things to see and do year-round in New York State. This year marks the first time that the
I LOVE NEW YORK Travel Guide
has spanned four seasons. The 132-page guide combines I LOVE NEW YORK's summer and winter travel guides into one book - on one side it's a summer guide - flip it over and you've winter at your fingertips! Summer travelers to New York will find features on history, including information on New York's stops along the Underground Railroad, the slaves' path to freedom; the 200th anniversary of War of 1812; plus great info on outdoor activities, art and culture, food and drink, shopping, and camping. Autumn travel features include spotlights on farm fresh produce, including apple picking, unique places to stay, and a fall foliage leaf identifier. Winter travelers will want to check out the latest on what's hot this winter including the new Alpine coaster craze; winter family fun,  including museums, rail rides like the new Saratoga/North Creek line; and downhill and cross-country ski information and listings. The guide also highlights snowshoeing, ice fishing, snowmobiling, and Upstate theaters. And, as the snow starts to melt, the excitement continues into spring with whitewater rafting, mountain biking, maple sugaring! To order your free I LOVE NEW YORK Travel Guide or to access it online - and for other New York State travel and events information - visit the I LOVE NEW YORK Web site at
iloveny.com
. You may also order the guide by dialing (800) CALL-NYS.
###
About New York State
New York State features 11 beautiful vacation regions. New York's attractions span from landmarks such as Niagara Falls, to the wine trails of Hudson Valley and treasures like the Baseball Hall of Fame in Cooperstown. Whether it's wide-ranging outdoor activities for the whole family like fishing, hiking and boating, culinary wonders and farm-to-table fresh foods, or the rich history and culture of one of the 13 original colonies, New York State offers diverse activities for all travelers. For more information, visit
http://www.iloveny.com/
. Media can find press releases and more at thebeat.iloveny.com.
CONTACT
:  Eric Scheffel Empire State Development (518) 292-5274
escheffel@esd.ny.gov
Melanie Klausner M. SILVER ASSOCIATES (212)-754-6500, ext. 243
Melanie@msilver-pr.com
Photo Captions
: (1) Photographer Francis X. Driscoll (left) and folk artist Michael Lavery in front of their collaborative work "I LOVE NY" at the Kaaterskill Fine Arts gallery in Hunter, N.Y. (Photograph of Driscoll and Lavery by Garan Santicola) (2) To order your free I LOVE NEW YORK Travel Guide or to access it online - and for other New York State travel and events information - visit the I LOVE NEW YORK Web site at iloveny.com. You may also order the guide by dialing (800) CALL-NYS.