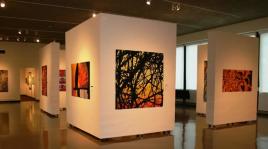 Art Lovers Warm Up to Quilts and Crafting
Cayuga County, N.Y. -
A
juried quilt show and local crafts mirror autumn's colorful pallet in Cayuga County. The Schweinfurth Memorial Art  Center, 205 Genesee St., Auburn, is displaying 96 quilts by 81 worldwide artists at its 30th Annual Juried Quilt Show, "Quilts=Art=Quilts 2010,"10 a.m. to 5 p.m. Tuesdays through Saturdays and and 1 p.m. to 5 p.m. Sundays, until January 9, 2011. Jurors chose quilts for visual impact, design and originality from 358 entries by 207 artists. Admission is $6. Call (315) 255-1553 or visit www.schweinfurthartcenter.org for more information. At 2 p.m., Tuesday Nov. 2, enjoy touring the quilt show with Schweinfurth Executive Director Donna Lamb, included in general admission, free for Art Center members.
Trunk Show
At 2 p.m. Thursday November 4, artist Norma Lamb, former New York State Quilters' Consortium chair, opens "My Quilting Journey," with colorful early traditional quilts to present day art quilts, included in general quilt show admission.
QBL2 Workshops
Quilting by the Lake Fiber Arts Workshops have begun at the Schweinfurth. Cher Benda's Nuno felt collage workshop, 9 a.m. to 4:30 p.m. Friday November 5, to Sunday November 7, transforms a sheer base weave with merino wool fibers into colorful, lightweight Nuno felt for wearables in all seasons, for interiors or for purely visual art. No prior felt making experience is required. A $40 supply fee is added to the $359 registration fee. Preregistration, still open, is required. At the same time, Adrienne Sloane's "Knitting Wired" workshop uses knitting fundamentals to fashion various shapes enhanced by knit's natural tendencies. Students manipulate colored copper wire and knitting stitches to create designs for interesting jewelry and small sculptures. Previous wirework is not needed but knitting knowledge is a plus. The third workshop, "Exploring Wearable Art," by Mary Ray, takes place 9 a.m. to 4:30 p.m. November 11 to 14. View www.quiltingbythelake.com for information. The Inn at the Finger Lakes, 12 Seminary Ave., Auburn, NY 13021, offers Dexluxe Queen Room packages from $89.99 to those attending the quilt show, including a $10 gift certificate to Schweinfurth's Art Center Gift Shop, a wine and beer reception  5 p.m. to 7 p.m. Mon. through Fri. and free continental breakfast buffet 6 a.m. to 10 a.m. For reservations call (315) 253-5000, fax: (315) 243-9090 or visit www.innatthefingerlakes.com. Crafts The "All Tied Up," yarn store, 14 State St., Auburn, NY 13021, supports fiber enthusiasts in a bright, cheery gathering spot stocked with yarn, patterns, books, needles and notions. Knit night takes place Tues., Nov. 9, from 7 p.m. to 9 p.m. Bring a food pantry donation and join in an evening of knitting and socializing. Store hours are:  Mon., 8:30 a.m. to 1:30 p.m.; Tues.,  Thurs., Fri., 10 a.m. to 5:30 p.m.;  Sat. 10 a.m. to 4 p.m. Upcoming classes include: learn-to-knit, November; holiday-theme, December; and knitting techniques (six months) starting January. Call (315) 258-YARN.
Craft Books
Craft-related books at The Downtown Books and Coffee Shop, 66 Genesee St., Auburn, include: "Knitting in the Round," "Compassionate Knitting,," "Encyclopedia of Sewing;" interior design: "Feng Shui for Dummies;"and  general crafts: "1000 Ideas for Creative Reuses." Any book can be ordered. The shop is open Mon.-Sat. 8:30 a.m. to 7:30 p.m.; Sun. noon to 4 p.m. Call (315) 515-3411 or view: www.downtownbooksandcoffee.com.
An artistically unique getaway
Each guest room at  A Wicher Garden Bed & Breakfast, 5831 Dunning Ave. Road, Auburn, is delightful in its own way and has been painstakingly decorated down to the smallest detail by proprietor, Gail Wicher. Nightly rates from $125 to $185   per night include ensuite bath, t.v., DVD, CD/radio, wireless internet, coffee station, phone, and hairdryer in any of  four uniquely theme decorated rooms: The Rose Suite, The Emerald Room, the  Garden Room, and the Adirondack Lodge.               Amenities include a four-course country breakfast, whirlpool tubs and fireplaces. Call 315-252-1187 or 1-800-356-8556. www.wichergardeninn.com For more information on events and accommodations visit: www.tourcayuga.com. Editorial Contact: Meg Vanek Executive Director Cayuga County Office of Tourism 131 Genesee Street Auburn, NY 13021 315. 255.1658/800.499.9165 fax: 315.255.3742 e-mail: meg@tourcayuga.com