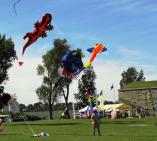 Oswego, N.Y.
- The Friends of Fort Ontario will host an Arts, Crafts, and Kites Festival Saturday, Sept. 7, from 10 a.m. to 4 p.m. on the spacious and historic grounds outside the old fort. Admission to the festival is free while normal admission fees will apply to those who wish to tour the old fort. Kite experts from around the United States and Canada, including members of NYKE (New York Kite Enthusiasts) and noted kite historian Thom Shanken, will be on hand to assist kite fliers of all ages and abilities in developing their kite handling skills. Kites up to 450 sq. ft with 150-foot tails will be featured at the festival. "These gigantic kites are often visible for miles beyond the fort grounds," said historic site manager Paul Lear. "The public is welcome to bring their own kites to take part in the fun and participate in various kite activities such as the Rokkaku Kite Battle, the Running of the Bols, and - every kid's favorite - the Candy Drop." Crafter's Row will feature artisans and crafters with a wide scope of specialties and provide shoppers with a myriad of choices in handmade items. From jewelry to jellies and jams to face painting and quilts, there is sure to be something to interest everyone among this year's vendors. Space is still available for crafters and artists interested in participating - contact Gail Goebricher at
(315) 343-6992
or
joshcat@verizon.net
. And, speaking of quilts, the Arts, Crafts, and Kites Festival will coincide with the opening weekend of Fort Ontario's month-long hosting of the Great Lakes-Seaway Trail War of 1812 Traveling Quilt Show in Officer's Quarters 1 inside the old fort. Admission to the quilt show is included in the old fort's regular admission.
 Tickets for the fort's annual Ghost Tour scheduled for Oct. 18 and 19 will also go on sale during the Sept. 8 festival. Fort Ontario State Historic Site is located at the north end of East Fourth Street in the city of Oswego. There is plenty of free parking at or around the fort; however, during the kite festival there will be no public vehicle access to the parking lot overlooking the lake to help ensure the safety of kite fliers and children. For information on Fort Ontario, contact Paul Lear at
Paul.Lear@parks.ny.gov
. For Oswego County visitor information, go to
http://www.visitoswegocounty.com/
 or call 1-800-248-4FUN (4386).
Photo caption
: Kites will fill the skies over Fort Ontario in the City of Oswego during the Arts, Crafts, and Kite Festival Sept. 7. The Fort Ontario event is one of the largest gatherings of kite fliers in State of New York. (Photo by Mary Ellen Barbeau, Oswego County Tourism.)
###
CONTACT:
Paul Lear, Historic Site Manager, (315) 343-4711