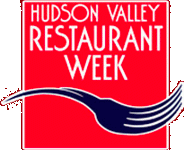 Residents Can Enjoy Dining Out While Supporting Local Restaurants
Hudson Valley, N.Y.
- With the Hudson Valley region in recovery mode from Hurricane Sandy, many people have asked if Hudson Valley Restaurant Week is still happening. A decision has been reached to move forward with all 14 days of prix fixe dining, beginning today, November 5, through November 18. "Participating chefs and restaurant owners are excited and ready to welcome Fall Restaurant Week diners starting today," says Janet Crawshaw, founder and organizer of Hudson Valley Restaurant Week. "There are still restaurants in the lower Hudson Valley that are without power and some are recovering from storm damage," she continued, "but most of these restaurants are working hard to be up and running as soon as possible. We encourage people to get out to have a great meal and support their local eateries." "This has been a rough week in Westchester, but many of our local restaurants have helped us recharge while our home kitchens have remained dark," said County Executive Robert P. Astorino. "Now it's time to celebrate our talented chefs and support our local businesses during Hudson Valley Restaurant Week. This is one of our favorite events here in Westchester and in the entire Hudson Valley, and we look forward to some great deals and amazing meals." In launching Hudson Valley Restaurant Week today, restaurants and chefs offer the event as a cost-effective way to bring the Hudson Valley community together. Speaking at the kick-off celebration of last Spring's Restaurant Week, Dr. Tim Ryan, President of The Culinary Institute of America, said, "Restaurants are cornerstones of our communities. Restaurants are where we go to gain nourishment, not just physical nourishment, but psychological nourishment as well." During Hudson Valley Restaurant (November 5-18), a three-course lunch is priced at $20.95 and a three-course dinner is $29.95. A full list of participating restaurants is at www.hudsonvalleyrestaurantweek.com. It is suggested that diners call ahead to make sure the restaurants of their choice are open post-Sandy. Organized by The Valley Table, the premier magazine of Hudson Valley farms, food and cuisine, Hudson Valley Restaurant Week is sponsored by M&T Bank, WHUD Radio, Millbrook Vineyards, The Gold Standard, Crown Maple, Irving Farm Coffee Company, The Moviehouse, The Journal News, Dutchess County Tourism, Westchester County Tourism and Hudson Valley Bounty. More information on participating restaurants is available by contacting The Valley Table at 845-561-2022 or
info@valleytable.com
.
###