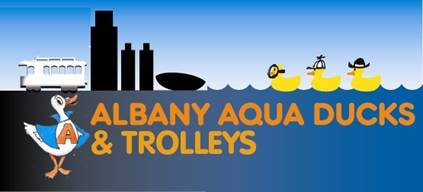 ALBANY, N.Y.
-- New York State Assemblyman Jack McEneny will conduct two historic tours of Albany aboard the Albany Aqua Ducks on Friday, May 29. The tours will depart from the Albany Heritage Area Visitors Center at Quackenbush Square, corner of Broadway and Clinton Avenue, at 10:15 a.m. and 12 Noon. Reservations are strongly recommended and may be made by calling 518-462-3825 or online at
http://www.albanyaquaducks.com/
. Mr. McEneny has served as the Democratic Assemblyman from the 104
th
District for 12 years. Widely known for his expertise in local history, he is the author of the book,
Albany: Capital City on the Hudson
. Tour prices are $26 for adults, $24 for seniors and active military; and $15 for children ages 4-12, and free for children ages 3 and under when seated on a parent's lap. For more information about the Albany Aqua Ducks and the Albany Trolleys, visit
http://www.albanyaquaducks.com/
.
###
MEDIA CONTACT:
Kathy Condon * Condon Communications PH: 518-436-1103 *  E-mail:
kcondon@netheaven.com