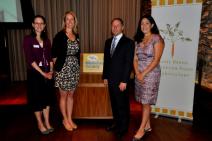 Prominent local residents create custom itineraries to invite people to "Meet Me in Westchester"
Pocantico Hills, N.Y.
- In an ongoing effort to showcase tourism in Westchester, County Executive Robert P. Astorino has unveiled a series of "Falltastic Favorite Escapes" as part of the county's Meet Me in Westchester campaign. Featuring exclusive itineraries created by some of Westchester's most notable residents - ranging from The Headless Horseman to star of new ABC show "666 Park Avenue" Vanessa Williams - these "Favorite Escapes" highlight both the popular destinations and secret getaways throughout Westchester. The announcement was made at a press briefing at Stone Barns Center for Food & Agriculture in Pocantico Hills. "Who better to act as tour guides than those who know the best places and the hidden gems in each of our towns?" Astorino said. "These 'Favorite Escapes' offer some great insider tips and show that in the fall, there is truly something for everyone in Westchester." To view all the "Falltastic Favorite Escapes," go to Escapes.VisitWestchesterNY.com. The Meet Me in Westchester campaign launched in June to help boost tourism as an economic driver in the local economy. At that time, Astorino announced that tourism in Westchester grew by 8 percent in 2011 to $1.7 billion, returning to pre-recession levels and supporting 24,000 jobs. The Meet Me in Westchester campaign will continue to build on that momentum through a mix of marketing, advertising, social media and special promotions throughout the year. "We're thrilled to be part of a campaign that encourages people to take advantage of the vast natural and cultural resources of our county," said Jill Isenbarger, Executive Director of Stone Barns Center for Food and Agriculture. "There are so many delicious opportunities to enjoy our regional food, farms and the outdoors - especially during the fall harvest season." The Stone Barns Center and Blue Hill at Stone Barns custom itinerary is available online at
Escapes.VisitWestchesterNY.com
.
VANESSA WILLIAMS' FARMS & GARDENS 
Vanessa Williams, the well-known television and Broadway actress and singer, is currently starring in ABC's "666 Park Avenue." Raised in Millwood and a 20-year resident of Chappaqua, Williams' favorite restaurant escapes include King Street Restaurant & Bar and Le Jardin du Roi in Chappaqua and Blue Hill at Stone Barns in Pocantico Hills. Her favorite fall walk is right next door at Kykuit, the Rockefeller Estate. Other favorite fall activities include buying fresh produce at Daisy Hill Farm in Mount Kisco and horseback riding at Fox Hill Farms in Pleasantville, where she and her daughters took riding lessons through the years.
HEADLESS HORSEMAN'S FAVORITE HAUNTS
For those already thinking about Halloween, an iconic Westchester personality, the Headless Horseman of Washington Irving's famed book, The Legend of Sleepy Hollow, offers his picks for a spooky Westchester experience. The Great Jack O'Lantern Blaze is the tri-state area's biggest Halloween event. "You can't go wrong with over 5,000 blazing pumpkins set against the mysterious and spooky backdrop of the 18th century buildings at Van Cortlandt Manor." Top this off with dinner at Horsefeathers in Tarrytown; he says, "Any place with 'horse' in the name is a good bet."
RADIO HOST'S ARTISTIC ADVENTURES
A local radio personality, Kacey Morabito of WHUD FM's Mike and Kacey in the Morning raves about brunch at Peter X. Kelly's X20 Xaviars on the Hudson in Yonkers. "You can enjoy not only Peter's culinary greatness but also the beauty of the whole Hudson Valley, from the George Washington to the Tappan Zee Bridge." Another of Morabito's favorite spots is the Paramount Center for the Arts in Peekskill, where she loves the theatre and music productions, and also the art exhibits on the second floor. "Definitely a hidden gem," she said. For out-of-town guests, Morabito suggests Doral Arrowwood for overnight accommodations.
AFRICAN AMERICAN HERITAGE TRAIL
History buffs may be interested in the African American Heritage Trail Escapes, a two-day adventure that explores the rich African American background of Westchester County. The first stop is Katonah for a guided tour of John Jay Homestead, the home of founding father John Jay, a former Governor of New York who signed legislation that led to the gradual abolition of slavery. After lunch, head to Foster Memorial AME Zion Church in Tarrytown and learn how its members helped provide food and shelter to fugitive slaves in the 1860s. Convenient accommodations are available at any point throughout the trail. Additional highlights include a visit to Yonkers to see the statue of Ella Fitzgerald, the First Lady of Song for more than 50 years, Philipse Manor Hall, St. Paul's Church National Historic Site and an African cemetery cap off this historic excursion.
GOLF, SHOPPING, ART, MUSIC AND ACCOMODATIONS
Additional "Favorite Escapes" highlight golfing, shopping, historic sites, additional restaurants, music venues, county walking and bike trails and much more, including sites in all cities, towns and villages in Westchester. All itineraries are available on Escapes.VisitWestchesterNY.com. Westchester's hotels offer a wealth of fall overnight packages including tickets to events such as the Great Jack O' Lantern Blaze and the Legends Celebration; farm to table experiences where guests can visit local farms to pick produce and have it incorporated into dinner at their hotel; pumpkin carving lessons; seasonal amenities and more. "Meet Me in Westchester captures the spirit and the essence of the tremendous opportunities the county offers to both business and leisure travelers.  And with the focus on fall, the incredible array of activities, restaurants, hotels, outdoor activities and so much more demonstrate just how much is available.  The 32 members of the Westchester Hotel Association are pleased to join in the launch of the autumn season and in promoting the many advantages that come with meeting in Westchester," said Dan Conte, president of the Westchester Hotel Association and General Manager of the Westchester Marriott. "If you are looking for quintessential fall activities, Westchester is your destination," said Natasha Caputo, director of Westchester County Tourism & Film. "We are pleased with the response that 'Favorite Escapes' has generated and we look forward to more residents and visitors sharing what they love about Westchester."
About Westchester County Tourism & Film
Tourism & Film is Westchester County's official destination marketing organization. Its mission is to generate economic benefits by promoting Westchester County as a desirable business and leisure destination. The role of Tourism & Film is to promote and coordinate tourist-related activity within Westchester County. Services include: marketing and promotion programs for tourism-related businesses and activities; assisting meeting planners in booking hotels, conference centers and venues; developing complimentary customized itineraries; coordinating site inspections; publishing the official Destination Guide and collateral for visitors; assisting with film and television location scouting, permitting and logistics.
###
Contact
:  Diana Costello (914) 995-2950