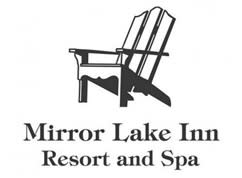 Lake Placid, N.Y. – In more ways than one, the Mirror Lake Inn Resort and Spa in Lake Placid wants to give employees a shot in the arm, and is ready to make it happen. On July 12, eight lucky winners will take home over $13,000 in cash or hotel prizes just by getting vaccinated for the coronavirus.
"While vaccination is not mandatory for employment at the Mirror Lake Inn, we feel it is most beneficial in fighting COVID-19. And it's free for everyone," said Ed Weibrecht, resort owner. "Most of our staff members have already gotten their shots. We'd like to see everyone fall under that category and decided to incentivize the process."
Vaccinated employees will be entered to win after providing proof of vaccination, and Weibrecht's accounting managers are at the ready. By random drawing, the luckiest among the staff will win the grand prize of $5,000 while two consolation cash prize winners will walk away with $2,500 each.
After the top three are picked, additional prizes will include a complimentary two-night stay in one of the resort's uber luxurious Colonial House Suites; dinner for two in the property's Four Diamond restaurant, "The View"; lunch or dinner for two at The Cottage Café; two salt therapy sessions for two people in the Inn's world class European Spa; and a monogrammed Mirror Lake Inn Spa robe.
Mirror Lake Inn owners, managers and supervisors are not eligible to win.
"To say we are encouraging vaccinations is an understatement," continued Weibrecht. "This is the best way to defeat this virus once and for all, and it's the easiest and fastest way we will reach herd immunity."
Over his ownership of the Inn dating back to 1976, Weibrecht has prioritized his staff's health, safety and personal growth above all else. To emphasize that point, the Mirror Lake Inn has added an employee wellness program, and hired a dedicated career counselor to guide new hires as well as nurture the more seasoned staff for future personal growth.
   ###
About the Mirror Lake Inn
The AAA Four Diamond Mirror Lake Inn Resort and Spa is a luxury lakefront resort offering an authentic Adirondack experience. The Inn, rated the number one "Lakefront Resort", "Spa" and "Fine-Dining Restaurant" on TripAdvisor and recipient of the AAA Four Diamond Award for 37 consecutive years, offers both Four Diamond world-class cuisine and casual dining options, with impeccable service amid awe-inspiring views. Only one other property in New York State (located in Manhattan), has maintained the Four Diamond designation longer than Mirror Lake Inn. It is the only property in Lake Placid that combines Four Diamond lodging and dining. The Inn's renowned Lake Placid spa pampers the body and refreshes the mind with a comprehensive menu of services. The Inn is conveniently located one block from the restaurants and shops on Main Street in Lake Placid.
Contact: Sandy Caligiore, sandy@mirrorlakeinn.com, 518-302-3086, @mirrorlakeinn