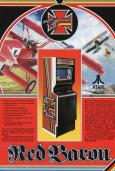 Rochester, N.Y.
-Arcade video games often sport stunning graphics and wildly different playing elements-like shifters, pedals, joysticks, buttons, and steering wheels-to heighten a gamer's playing pleasure. See the creative thinking behind the finished designs of some of the most popular video arcade games at
Atari by Design: From Concept to Creation
,
an original new display opening at the
National Museum of Play
at The Strong Saturday, June 22. 
The display offers game enthusiasts a rare opportunity to delve into the development of
Gauntlet
,
Street Fighter
,
Gran Trak 10
,
Red Baron
, and
Gotcha.
Game cabinets are paired with displays of preliminary designs, drawings, and sketches that went into their creation as well as some of the fliers and advertising materials used to promote their sale. Several of the machines, including
Street Fighter
and
Gauntlet
, are available for play. The display is produced by The Strong's
International Center for the History of Electronic Games (ICHEG).
According to ICHEG Assistant Director Jeremy Saucier, "When designing a video arcade cabinet, designers must ask themselves questions such as, 'How will I fit four players in front of the machine, how will they interact, and will the machine be aesthetically appealing?' These Atari production drawings offer a rare look into the actual decisions designers had to make in order to create an attractive and functional video arcade cabinet."  Also on view are two rare examples of "chip plots" that document the processes by which two of the most important computer chips in video game history were created-the chip for Atari's home version of
Pong
, and the revolutionary display and sound chip known as the Television Interface Adapter (TIA) for the Atari Video Computer System (Atari 2600) introduced in 1977. Containing multiple overlaid clear Mylar sheets, the chip plots diagram the architecture for the heart-and the head-of the home video game operation. (If you look closely, you can even see the designers' initials on the
Pong
and
Television Interface Adapter
chip plots.) The original designs and drawings in this display were selected from ICHEG's recently acquired
Atari Arcade Design Collection
-more than 250 original conceptual drawings and industrial designs for Atari arcade games produced between 1974 and 1989. The collection provides a rare visual documentation of the thinking behind the design of Atari's coin-operated games at a time when the arcade was the hub of the video game industry and Atari was the leading producer of arcade games. The Atari by Design display remains on view through September 8. =============================================================
Museum Hours:
Monday-Thursday, 10 a.m. to 5 p.m.; Friday and Saturday, 10 a.m. to 8 p.m.; Sunday, noon to 5 p.m.
General Admission Fees
(does not include admission to
Dancing Wings Butterfly Garden
®
): age 2 and older $13, under age 2 free, members free.
Admission to
Dancing Wings Butterfly Garden
:
General Admission fee plus $3 for members, $4 for nonmembers, under age 2 free. Entry is by timed ticket only.
Parking:
Free parking is available at the museum for all guests on a first-come, first-served basis. Please note that, on high visitation days, the museum lot may reach capacity early in the day. If space is not available on site at the time of your visit, additional parking is available at neighboring municipal garages for a fee. The Strong is not responsible for fees incurred at off-site locations.  
Contact
: Susan Trien, 585-410-6359,
strien@thestrong.org
Shane Rhinewald, 585-410-6365,
srhinewald@thestrong.org