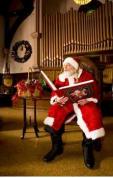 History's Hometown's Free Holiday Celebration December 8, 2013
Auburn N.Y.
- Holiday Traditions is an event that was created by the Seward House over 30 years ago as a token of appreciation to the Auburn community. Since that time, other local cultural attractions and sites have opened their doors to the public for free the second Sunday in December. Now, the "open house" is a tradition, and again this year, participation has expanded to include churches and other non-profit organizations.
The Cayuga Museum, 203 Genesee Street (315) 253-8051
http://www.cayugamuseum.org/
Open from Noon to 5PM - The mansion will be decked out in its holiday best.  Current exhibit -
Faces of Cayuga County 1880 - 1920
.   Also plan to visit the Case Research Lab, Birthplace of Talking Movies, and the newly renovated Theater Mack.
The Harriet Tubman Home, 180 South Street (315) 252-2081
http://www.harriethouse.org/
The Harriet Tubman Home will be open from Noon - 5PM for tours.
Schweinfurth Art Center, 205 Genesee Street (315) 255-1553
http://www.myartcenter.org/
Open Noon to 5PM - Quilts made by 70 artists from the United States, Canada, Australia, Japan and Argentina will be on view in the Schweinfurth's 33
rd
annual
Quilts=Art=Quilts
exhibition.  Children are invited to complete a scavenger hunt about the quilts.  The Ithaca Modern Quilt Guild will present a Trunk Show at 2pm.
Seward House Museum, 33 South Street (315) 252-1283
http://www.sewardhouse.org/
Open Noon to 5PM - Join us for a community wide open house, and see the Seward House Museum elegantly decorated for a Victorian Christmas. Enjoy live entertainment by local musicians and get swept back in time as Seward House staff and volunteers tell tales of a Seward Christmas.
St. Francis of Assisi Church, 303 Clark Street (315) 252-7593
http://marymarthaauburn.org/
Open Noon to 5PM  - Auburn Chamber Orchestra performance at 4PM.  Coffee hour to follow.
Ward O'Hara Agricultural Museum, Route 38A (315) 252-5009
www.cayuganet.org/agmuseum
Open Noon to 4PM - Back by popular demand will be Charlie Minturn and his horse drawn wagon rides across the museum grounds. These will also be "Model T" Truck and car rides weather permitting along with many activities for the kids.    New this year will be "The Festival of Trees", over 30 trees decorated and on display in the museum.  Mary Ann Finn will be at the keyboard playing those old time Christmas Carols and other Christmas favorites.  There will be cookie decorating, face painting, Christmas coloring contests, Christmas ornament making and much more.  The Barber Shop Singers will be back performing their Christmas favorites.  Tours of the museum will be given and the gift shop will be open for those old fashion Christmas gifts.  Admission and parking is free but donations are always appreciated.  New this year will be the heated Educational Center where many activities will be taking place.  Dress warm because the museum will be open but not heated. Come and join us for an old fashioned Christmas celebration.
Westminster Presbyterian Church, 17 William Street (315) 253-3331
http://www.westminsterauburn.org/
Open Noon to 3:30PM - Enjoy refreshments and tours of the historic church decorated for Advent with greens, candles, and banners, from 12-3:30pm. Visitors can enjoy music by a string quartet (Lydia Marteney, Sheelan Mirza, Chris Holmes, and Rachel Bergan) and piano music by Morgan Mclvain from 1-2pm. The MasterWorks Chorale, directed by Kip Coerper, will perform a free program of selections from their Christmas concert in the sanctuary at 2:30pm.
Willard Memorial Chapel, 17 Nelson Street (315) 252-0339
http://www.willardchapel.org/
Open Noon to 5PM  - Open for chapel visits.  At 1pm Santa will read "Twas the Night Before Christmas" by Clement C. Moore, sponsored once again by Literacy Volunteers of America.  From 2-3:30pm, harpist Lisa Fenwick will play holiday tunes, with a half hour break in the middle. St. Luke's United Church of Christ, 25 Seminary Ave.  (315) 252-4234
http://stlukesucc.homestead.com/
St Luke's will open its doors 1 -3PM. The church will be adorned in its finest Christmas décor.   Mark Nowak will be playing the organ from 1 -2PM followed by an audience Christmas Music sing along from 2 -3PM.  Children will be able to make and take a Christmas ornament. Light refreshments will be available.
For more information, about Holiday Traditions, or for a photo from the past events, call the Cayuga County Office of Tourism at 315-255-1658. If you have questions regarding a specific venue, please phone them directly.
About Auburn's Historic & Cultural Sites Commission
To ensure communication between the many Holiday Traditions' partners, the City of Auburn's Historic & Cultural Sites Commission coordinates publicity and advertising for this event. The Commission site members include Auburn Public Theater, Auburn Schine's Theater, Cayuga Museum & Case Research Lab, Harriet Tubman Home, Schweinfurth Memorial Art Center, Seward House Museum and Willard Memorial Chapel.
Editorial Contact:
Barbara Murdoch Auburn's Historic & Cultural Sites Commission 131 Genesee Street Auburn, NY 13021 315.255.1658/800.499.9615 e-mail: 
barb@tourcayuga.com