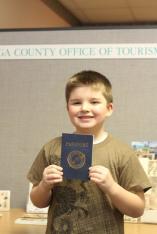 Auburn, N.Y. -
To encourage fourth grade students and their families to visit  Auburn' s museums and historic sites,  Auburn's Historic & Cultural Sites Commission created the "Passport to History" program eight years ago as a fun way for students to learn about the City's rich history and culture.  Students pick up a passport at a participating site, answer questions about the site and then receive a passport stamp on the site page just like they would in an actual passport.  Ideally, students will visit all the sites and turn in a completed passport with a stamp on each page, making them eligible for various prizes as well as the grand prizes of MP3 Players.   Participating "passport" sites include the Cayuga Museum, Schweinfurth Memorial Art Center, Willard Memorial Chapel, Seward House Museum, Harriet Tubman Home, Cayuga County Office of Tourism and the Auburn Schine's Theater. The program allows for free admission to the sites for one student and one adult. This year's program started on February 18 and runs through April 25, giving students ample time to make visits to all the sites. Participating schools are St. Joseph's School, Genesee Elementary, Herman Elementary, Seward Elementary, Casey Park Elementary, Owasco Elementary and St. Peter & Paul. For more information about the Passport to History program, please call 315-255-1658.
About Auburn's Historic & Cultural Sites Commission
The mission of Auburn's  Historic & Cultural Sites Commission is to support its designated organizations to achieve their missions through collaborative marketing, programming and tourism strategies.  The vision of the Commission is to position Auburn as the destination of choice in the Finger Lakes through support and promotion of its history and culture.
###
Photo Caption
: Nathan Walker, Herman Avenue Elementary, gets his 'Passport to History' stamped at the Cayuga County Office of Tourism
Editorial Contact:
Barb Murdoch Auburn's Historic & Cultural Sites Commission c/o  Cayuga County Office of Tourism 131 Genesee Street Auburn, NY  13021 315.255.1658/800.499.9615 e-mail:
barb@tourcayuga.com