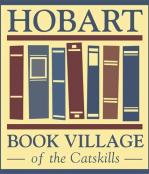 Hobart, NY
- On Saturday, July 11th, 2009, each of the bookshops on Main Street in the Hobart Book Village will host local authors for a book signing session from 1 pm to 4 pm. This will be a wonderful opportunity to meet these creative writers who will be on hand to sign copies of their latest releases.  In addition, they will offer insight to their writing process, share their wisdom to those would-be authors seeking guidance and answer questions on a one-to-one basis.   There is no charge to attend this event and all are welcomed.  A complete list of participating authors will be posted on the Book Village website:
http://www.hobartbookvillage.com/
. Hobart - The Book Village of the Catskills - is located along the beautiful West Branch of the Delaware River. Nearby attractions include the Delaware County Historical Association Museum and Library, Hanford Mills Museum, the Delaware & Ulster Rail Ride and, of course, the 18-mile Catskill Scenic Trail, which passes right through Hobart.  Nearby are Cooperstown, home to the Farmer's Museum, Fenimore House Museum, and The Baseball Hall of Fame; Oneonta (Soccer Hall of Fame) and Cobleskill (Howe Caverns). 
Contact:
Donald Dales Hobart Book Village ddales@stny.rr.com