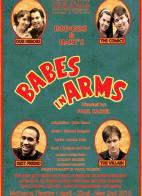 New Paltz, N.Y. -
Mainstage Productions at the State University of New York at New Paltz presents the utterly captivating musical "Babes in Arms" on April 22 - May 2 at McKenna Theatre.  Rediscover the ageless fun of the 1937 Rodgers and Hart musical - the original show about putting on a show. The musical is directed by Paul Kassel, associate professor in the Department of Theatre Arts. "This production is the quintessential 'Hey, kids, let's put on a show!,' boasting one of the greatest scores ever written - "My Funny Valentine"; "Where Or When"; "The Lady is a Tramp"; "Johnny One Note"; and "I Wish I Were In Love Again,"' said Kassel.   The plot involves a group of teenagers who are left without adult supervision when their folks hit the vaudeville summer circuit, and the local sheriff is determined to send them to a work farm.  But the indomitable kids talk the sheriff into a one-week reprieve, just enough time to produce their own show and prove their mettle. The son of a wealthy Wall Street executive agrees to bankroll the production, but only on the condition that the two immigrant children do not appear in the show.  The other kids are outraged but, of course, the show must go on and does, in a succession of comeuppance, reconciliation and romance.  The time-honored virtues of a 30's musical comedy are peppered with socio-political issues which have remained resonant for more than six decades. Kassel said this production is unique in that it makes visible and then blends the worlds of theatre and play so boundaries meld and inform, deform and reform each other. All for laughs. "Babes in Arms
is performed as if the cast/crew snuck into the theater, raided the scene and costume shop, and put on the show behind the backs of the faculty," said Kassel. "Everyone will be themselves and 'take on' roles as needed - cast and crew work together, the choreographer helping with steps, actors becoming musicians, grips, wardrobe assistants, etc."
About the Director
Professor Paul Kassel heads the performance area, teaching all levels of acting, play analysis and directs plays in the Mainstage season. This spring he performed in Halfmoon Theatre Company's production of "Seven Stories," directed by Roger Hendricks Simon at the Cuneen-Hackett Center in Poughkeepsie.  His book, "Acting: An Introduction to the Art and Craft of Playing," was published by Allyn & Bacon in April 2006.  "Babes in Arms" originally opened at the Shubert Theatre in 1937 and ran for 289 performances, followed by the premiere of an MGM musical film in 1939 of the same title starring Mickey Rooney and Judy Garland.
Ticket Information
The musical will be performed at 8 p.m. on April 22, 23, 24, 29, 30 and May 1, and at 2 p.m. on April 25 and May 2 at McKenna Theatre.  Tickets are $18 general reserved, $16 reserved senior, New Paltz faculty/staff, student.  Tickets can be purchased by calling the Box Office, located in Parker Theatre, at (845) 257-3880, Monday through Friday from 11:30 a.m. - 4:30 p.m. or by visiting
www.newpaltz.edu/theatre/productions.html
. The Box Office will also be open one hour prior to each performance.
###
New Paltz is a highly selective college of about 8,000 undergraduate and graduate students located in the Mid-Hudson Valley between New York City and Albany. Degrees are offered in the liberal arts and sciences, which serve as a core for professional programs in the fine and performing arts, education, business and engineering.
Contact
: Eric Gullickson (845) 257-3245          Note to editors: A high resolution photograph of the "Babes in Arms" playbill is available online at
www.newpaltz.edu/news/images/babesinarms.html
.