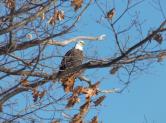 Oswego County, N.Y.
- Recently sightings of Bald Eagles have been reported along the Oswego River. Several have been spotted in the Minetto area starting by Gray Road to just before the Midway Drive-In. "Bald eagles are known for congregating near areas with open water, and Oswego County has several pristine natural areas, such as the Salmon River corridor, that attract our national bird," said David Turner, director of the Oswego County Department of Community Development, Tourism and Planning. The U.S. Fish and Wildlife Service removed bald eagles from the list of Threatened and Endangered Species in 2007 but they are still listed as threatened on the New York State Endangered species list. "In the 1960s there was one nest reported, and as of now there have been 130 to 140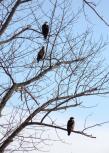 nests reported," said ornithologist Gerry Smith, former president of the Onondaga Chapter of the National Audubon Society. "There are more bald eagles in our parts of the world, which includes Lake Ontario and the Oswego River area, than there has been for at least a century or possibly more." "The bald eagle population continues to increase, therefore sightings of them will increase along with the number of birds seen at one time," according to NYS Department of Environmental Conservation spokeswoman Lori Severino. "They typically nest in mature trees in forested areas near the shorelines of large wetland complexes, rivers, lakes or oceans." The breeding season of the bald eagle starts in January, and eggs are laid in late February to early April. The eggs hatch after being incubated for 35 days. The young eaglets remain with their parents through the end of summer. It takes five years for the birds to mature to the point where they develop the familiar white head and tail of our national symbol. Bald eagles are resourceful feeders who hunt fish, waterfowl, shorebirds, small mammals and reptiles. They will also search for deer carcasses in the winter. The best time to see the bald eagles is in the early morning, even before sunrise, when they are looking for food in the open waters.
To find out more information about bald eagles and where you can catch a glimpse of this beautiful bird, visit the DEC website at
http://www.dec.ny.gov/animals/7068.html
. You can also check out
http://visitoswegocounty.com/the-great-outdoors/birding/
for more birding information in Oswego County.
Article by Molly Ross, Student Intern, SUNY Oswego
###
Photo caption
Several bald eagles have been sighted in recent weeks along the Oswego River on State Route 48 between Minetto and Oswego. (Photos by Mary Ellen Barbeau, Oswego County Tourism Office.)