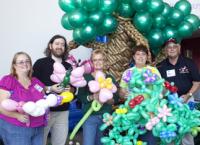 Rochester, N.Y.
- See a gigantic, original balloon sculpture being built at the National Museum of Play at The Strong
®
during Balloons Around the World on Wednesday, October 3, from 11 a.m. to 4 p.m.
Watch local balloon artists Larry Moss and Kelly Cheatle of Airigami rise to the occasion as they create a large rain forest scene complete with trees and animals-made entirely out of balloons! Now in its 13th year,
Balloons Around the World
invites hundreds of balloon sculptors to donate their time and talents to create sculptures for public spaces as part of an international celebration of balloon artistry. Last year, balloon artists in 23 states and seven countries participated in the event by decorating schools, malls, hospitals, libraries, and more.  Approximately 10 artists are expected to help Moss and Cheatle build the sculpture at the National Museum of Play. This is the second year they have chosen the museum to be the site of their work. Says Moss, "For me, sculpting is play. We're lucky to have the National Museum of Play in Rochester, which has, as its full-time mission, the same playful goal that we have for the day." Moss and Cheatle will be on hand after the event to sign copies of their illustrated book,
Artist Eyes
, which introduces children to the great masters of art by showing their work recreated as balloon sculptures. The balloon sculpture at the National Museum of Play will remain on view for as long as the balloons stay inflated. All Balloons Around the World activities are included with general museum admission fees.
###
Contact
: Susan Trien, 585-410-6359,
strien@thestrong.org
Shane Rhinewald, 585-410-6365,
srhinewald@thestrong.org