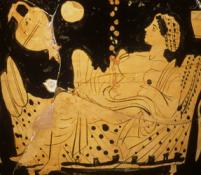 Annandale-on-Hudson, N.Y.
- Bard College's SummerScape series is presenting New York's first fully staged production of Richard Strauss's rarely performed opera Die Liebe der Danae. A Mozartean blend of comedy, romance, and drama on the themes of transformation and accepting life's changes, Die Liebe der Danae is brilliantly illuminated by Strauss's celebrated orchestra mastery. Set design for this stunning contemporary staging is by renowned architect Rafael Viñoly with Mimi Lien, working under the "masterful stage direction" (Globe and Mail) of theater and opera director Kevin Newbury. The production will feature soprano Meagan Miller, a grand finals winner of the Metropolitan Opera National Council Auditions, as Danae.
This week, Musical America picked the upcoming SummerScape production of Die Liebe der Danae as their Critic's Choice for New York Opera, noting that "Bard's annual opera has become an indispensable part of the summer operatic landscape because the choice of works is invariably inspired and their productions distinctly creative." Strauss's late opera "... has its share of choice music, especially in the final act when the beautiful Danae rejects the chief god Jupiter in favor of the humble camel driver Midas."
###
Die Liebe der Danae
Friday, July 29
, 7 pm
Sunday, July 31
, 3 pm
Wednesday, August 3
, 3 pm
Friday, August 5
, 7 pm
Sunday, August 7
, 3 pm Music by Richard Strauss Sung in German, with English supertitles American Symphony Orchestra Conducted by Leon Botstein, music director Directed by Kevin Newbury Set Design by Rafael Viñoly and Mimi Lien Costumes by Jessica Jahn Lighting by D. M. Wood Tickets: $30, 60, 70, 90
For more information or to purchase tickets:
 845-758-7900.