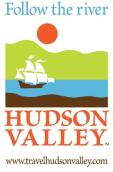 The views get better as the Hudson Valley approaches winter
Hudson Valley, NY
 (November 2013) -  The Hudson Valley is beautiful dressed in fall foliage, but when the leaves are gone and bare branches reach for the sky, whole new vistas open up to show the landscape. Like secrets, the leafless panoramas reveal unseen rock formations, buildings, and views through the trees that warmer weather foliage obscures. Pathway choices range from an easy stroll to a more ambitious trek. The trail up
Mount Beacon
is steep, but well worth the resulting view. Stairs along the former course of the Beacon Incline Railway (plans are in the works to restore it) take you to observation platforms with views stretching from the Hudson Highlands to the Catskill Mountains. A monument at the top of the mountain commemorates the signal fires built to warn the patriots of British troop movements during the Revolutionary War. Steps also take you to the top of the Empire State Plaza and the
Corning Tower Observation Deck
. Breathtaking views of Albany, the Plaza, and the Hudson River are the first things you'll see before your eyes take in the foothills of the Adirondacks, the Catskills, the Green Mountains of Vermont, and the Berkshires of western Massachusetts. Forty-two flights of stairs will give you a good workout, but take the elevator if you prefer. Wooded mountain trails are some of the most popular hiking spots in the Hudson Valley. It's an easy lope up to
Manitou Point Preserve
, a 136 acre park bordering a spectacular section of the Hudson River. The figure-eight path loops around to an overlook with Sugarloaf Hill to the north and West Point standing majestically across the river. A more challenging hike to the
Catskill Mountain House Site
in Haines Falls opens up a panorama that takes in five states. From an elevation of 540 feet at Kaaterskill Falls, the escarpment rises to 2,250 feet and the site where the historic hotel once stood. The park is closed to vehicles, but hiking is still popular even if you only go to the top of the falls. Closer to the Hudson River, the trail from
Nyack Beach State Park
winds around the base of Hook Mountain and is perfect for a casual saunter or bike ride. The leaves have departed, so be sure to look up to the beautiful rock formations on the mountain. Check for white blazes that ascend to the Long Path running along the mountain top for elevated views. In winter, when the waterside path is covered in snowy white, it's open for snowshoeing. Less than an hour away, the
Appalachian Trail
skims the ridge overlooking Greenwood Lake. An easy one hour stroll from the top of Mount Peter takes you to a rock outcropping where all 11 miles of the lake can be seen clear into New Jersey. Along the way, peer deep into the woods on either side of the path for interesting geological formations and a peek at some of the native woodland creatures. One of the newest hikes is across the
Rosendale Trestle
, a high flying rail bridge connecting two peaks 150 feet over the Rondout Creek and the quaint village of Rosendale. At almost a thousand feet long, the trestle opened in 1872 and was the tallest in the United States at the time. Recently restored, local hikers are enthusiastic about the opening because it connects sections of a 24-mile rail trail now being developed. Seven thousand years before the coming of the railroad,
Croton Point Park
was inhabited by Native Americans who later established a fortress on this peninsula jutting into the Hudson River. Open year round, even small children can enjoy a jaunt in the park along with a visit to the Croton Point Nature Center. Now that the trees are bare, unobstructed views of the Palisades show the magnitude of this sheer drop into the Hudson. Families are also attracted to the
Schor Conservation Area
in Canaan. Take a leisurely walk along the wooded trails as they wend their way to the summit. Kids love to see the squirrels scampering through the woods, much easier now that there's no greenery obstructing the view! Once you're at the top, the Catskill Mountains and Hudson Valley spread out before you, and on a clear day you can see the Albany skyline. Just a short distance north, another family spot is the
Dyken Pond Environmental Education Center
in Cropseyville. A variety of eco-systems comprise this nature preserve with trails ranging from a quarter mile to 4 miles long. Geocaching sites are stashed along the way within the 40 acres, a great way for casual hikers to explore in any season. Hike our Hudson Valley trails and parks in the cooler months for a new look at the gorgeous terrain. Nature reveals itself through wider expanses now that the trees are bare and you can see more deeply into wooded areas. See what really lies beyond the trees before Mother Nature dresses them in green again. Find more fun things to do at
www.travelhudsonvalley.com
. Hudson Valley Tourism, Inc. is the 10-county region designated by I LOVE NEW YORK to promote tourism for the area. Counties include Albany, Columbia, Dutchess, Greene, Orange, Putnam, Rensselaer, Rockland, Ulster and Westchester. Regional information can be obtained from the county tourism offices, or call 845-615-3860.       
RESOURCES
Mount Beacon, City of Beacon. 845-473-4440,
www.scenichudson.org/parks/mountbeacon
Corning Tower Observation Deck, Albany. 518-474-2418,
www.ogs.ny.gov/esp/CT/Tours/OBdeck.asp
 Manitou Point Preserve, Garrison. 845-473-4440,
www.scenichudson.org/parks/manitoupoint
         Catskill Mountain House Site, Haines Falls. 518-589-5058,
www.dec.ny.gov/outdoor/24487.html
           Nyack Beach State Park, Upper Nyack. 845-268-3020,
www.nynjtc.org/park/hook-mountain-state-park
   Appalachian Trail, Greenwood Lake. 201. 512.9348,
http://www.nynjtc.org/
      Rosendale Trestle, Rosendale. 845-255-2761,
http://wallkillvalleylt.org/
                     Croton Point Park, Croton. 914-862-5290,
http://parks.westchestergov.com/croton-point-park
Schor Conservation Area, Canaan. 518-392-5252,
http://clctrust.org/public-conservation-areas/schor/
Dyken Pond Environmental Education Center, Cropseyville. 518-658-2055,
http://www.dykenpond.org/
###
Contact
: Susan Hawvermale
shawvermale@orangecountygov.com
  845-615-3863