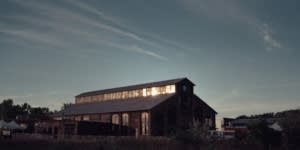 Local and international voices from music, art, film, food and community at the core of upcoming season of public programs
Hudson, NY - Hudson multidisciplinary arts center Basilica Hudson has announced its 2018 season, with innovative and independent voices from music, art, film, food and community at the core of its public program of events, exhibitions and marketplaces. Programs range from site-specific visual art residencies using Hudson as central muse, to a long-form homage to sound in the form of 24-HOUR DRONE. All programs will take place in Basilica Hudson's unique setting, a reclaimed 1880s riverfront industrial factory, set against the epic backdrop of the Hudson River and Catskill Mountains.

Since it was founded in 2010, Basilica Hudson has drawn inspiration for its mission and programs from the city's eclectic history, from explorers past to the Hudson River School painters, through the industrial revolution, and now finding a new resurgence in art and agriculture. Basilica Hudson has had a significant impact on the City of Hudson, creating a platform for hundreds of artists and small businesses in the region, and welcoming more than 40,000 visitors to programs and events each season.

"As always, we are striving to create an immersive pilgrimage to Hudson, where rural, industrial and urban collide. Through our programs, we bring international voices that might otherwise not come to Hudson, while inviting audiences to discover the character of our region." says Basilica Hudson Director and co-founder Melissa Auf der Maur. "Basilica aims to be a gateway to the dynamic City of Hudson and this region of epic history and great potential. We are mindful of the rapid evolution of Hudson, and are committed to being a counterbalance to Hudson's commercial development with our cultural and more experimental programming."

ONE Fair
Friday, April 6 - Sunday, April 8
Working in partnership with Virago Futures, Basilica Hudson will be launching a new event for 2018 with a focus on renewable energy. The Our New Energy Fair will feature renewable energy companies and Earth-friendly groups showcasing their services; education and advocacy groups in panel talks and discussions, and opportunities for practical problem solving. Building on Basilica Hudson's long-standing commitment to sustainability, ONE Fair aims to show how it is possible for everyone to run their home with renewable energy.

24-HOUR DRONE: EXPERIMENTS IN SOUND AND MUSIC
Saturday, April 28 – Sunday, April 29
Basilica Hudson and Le Guess Who? Festival present 24-HOUR DRONE, an immersive, all-encompassing event featuring an international roster of musicians and sound artists working in electronic, psychedelic, classical, non-western, instrumental and other genres incorporating drone to create a full 24 hours of unbroken sound. 24-HOUR DRONE captures Basilica Hudson at its most experimental and experiential, and organizers have also pledged an ongoing commitment to expanding the 24-HOUR DRONE concept via a series of global partnerships and collaborations. International events in Sweden, Canada the UK and the Netherlands allowed 24-HOUR DRONE to reach new devotees of sound in 2017, with partners including Winnipeg New Music Festival, FAT OUT and DREAM Music at Malmö Live.

Basilica Farm & Flea Spring Market
Saturday, May 12 – Sunday, May 13
Basilica Farm & Flea Spring Market arrives in time for Mother's Day gifts and a much-needed end-of-hibernation celebration. With an abundance of makers, collectors, farmers, artists and chefs harnessing the spirit and beauty of the Hudson Valley, Spring Market will create a dynamic weekend of celebration and renewal. Picture spring dresses, vintage garden sets and maybe even a maypole. Visitors can shop handmade and vintage goods, purchase locally-made added value food products and eat farm-fresh food. General admission for the whole weekend is $5 and free for children under 12.

(FREAK) FLAG DAY
Saturday, June 9
Cloaked by night and surrounded by colorful explosions, Basilica's annual dance party acts as a freakier counterpart to Hudson's annual Flag Day celebrations, featuring performances and dancing into the wee hours. The evening kicks off at sundown with the best seat in town for Hudson's spectacular fireworks display (one of the largest in the Hudson Valley, launched from Basilica's parking lot), and the freaky festivities take off from there, with a new-wave and industrial dance party raising flags and funds for art and freaks.

Basilica SoundScape: Weekend of Music + Art
Friday, September 14 - Sunday, September 16
Presented in collaboration with The Creative Independent, Basilica SoundScape incorporates live concert performances, conceptual sound performances, author readings, installations, collaborations, curated local vendors, on-site activities and more, creating an immersive weekend of art, music, and culture. Basilica SoundScape features a lineup of some to the most innovative and genre-pushing musicians, visual artists and writers working today, with unique collaborations across disciplines. Past talent includes John Maus, Moor Mother, Jlin, Marianne Vitale, Richard Hell, Tim Hecker, Swans, Gang Gang Dance, Liturgy, Julianna Barwick, HEALTH, Perfume Genius, Pharmakon, Deafheaven, Jenny Hval, The Haxan Cloak, Cal Lane, Wolves in the Throne Room, Explosions in the Sky, Angel Olsen, Genesis Breyer P-Orridge, Amber Tamblyn, Deradoorian and Deantoni Parks.

Pioneering People
Weekend of October 26 - 28
Basilica Hudson's Pioneering People Series celebrates groundbreaking artists across a range of disciplines. Always incorporating a benefit performance, the inaugural program featured visionary filmmaker and one-of-a-kind personality John Waters. 2016's edition featured celebrated troubadour Rufus Wainwright.

Basilica Farm & Flea Holiday Market
Friday, November 23 - Sunday, November 27
Born Thanksgiving Weekend 2013 as an antidote to the big box, corporate nature of Black Friday, Basilica Farm & Flea Holiday Market is part timeless flea and farmer's market and part 21st century craft and design fair, showcasing the wealth and splendor of the Hudson Valley's artisanal talents. Each market features a diverse group of regional vendors selling their wares alongside locally-sourced, farm-fresh foods. The markets capture a love of vintage and recycled goods, locally-sourced agriculture and the beautifully handmade. With over 10,000 square feet of raw space, Basilica Farm & Flea Holiday Market is the only market of this scale in the region.

Basilica Non-Fiction Screenings Series
June through August
Basilica Non-Fiction Screening Series will return for summer 2018. The series will again be produced in collaboration with Chris Boeckmann, film programmer for the Columbia, MO-based True/False Film Fest, a pioneering film festival dedicated to exploring creative nonfiction film. The Basilica Non-Fiction Screening Series celebrates and examines the documentary genre through screenings and dialogue with visiting directors. Following 2017 screenings of acclaimed documentary films including RAT FILM and Whose Streets?, the series will form part of Basilica's long-standing film program, which is now in its sixth year and continues to present an array of works from new and repertory narrative features, documentaries, experimental films, to video and media art, often with filmmakers and special guests in attendance for a discussion following the screenings.

Basilica Kitchen + Chef in Residence Program
Working with Hudson-based professional chef Nicole LoBue, the Basilica Kitchen + Chef in Residence Program sets out to complement and amplify food and food resources in the area, through food education programs and making farm-fresh food more available. Basilica Hudson and LoBue both believe deeply in the power of the culinary arts to connect people with their location. Offering a wide array of local farm-fresh food to visitors is an integral element at each event and Nicole has served her delicious, thoughtfully-created food at Basilica Hudson for a number of years, from a Blade Runner Noodle Bar at a sold-out screening of the iconic sci-fi movie, to Drone Bowls, served at 24-HOUR DRONE to reflect the harmonious blending of sounds and senses of music.

Basilica Back Gallery Series
Summer 2018
Basilica Hudson's Back Gallery artist in residency series will return, inviting artists to explore Basilica's location itself as muse, with exhibitions in its 2,000-square-foot Back Gallery. Past residents have included NYC downtown veteran Jack Walls, filmmaker Harmony Korine, painter Haley Josephs, Dylan Kraus, Rose Salane, Marc Swanson, documentary photographers Atish Saha and Bryan MacCormack, Alon Koppel, Sonia Corinna, Annie Bielski and HQTBD.

Exploratory Industrial Landscape Residency Series
Summer 2018
Following a 2017 collaboration with Wild Gather Hudson Valley School of Herbal Studies, this year will see a return to art programming within Basilica's Psychic Green Trailer. Basilica's co-founders preserved the former Hudson Handling trailer as a relic of Hudson's industrial past. The trailer has evolved into a location for site-specific artist-in-residency projects, directly informing the work made during time spent exploring the industrial landscape as public art exhibition space. As a extension of this residency project, Basilica will be host to a public art series this summer, guided and supported by sculptors and public artists Ben Fain and Jason Middlebrook.

Looking ahead at Basilica Hudson
In 2017, Basilica Hudson was designated a priority project by the New York State Regional Economic Development Council, and was awarded a grant towards capital improvements to winterize portions of the campus. With this funding in place, and building on the momentum of both that award and Hudson's Downtown Revitalization Initiative award in process, Basilica Hudson is now looking ahead to its next phase of operations and activity, building towards plans for year-round cultural and community programming.

Basilica Hudson is committed to helping to ensure that arts, culture and community remain an anchor within an evolving mixed-use area, and envision a year-round Basilica as a civic, educational and cultural balance to Hudson's growing commercial landscape, with a range of new programs designed specifically to serve local year-round residents. Workforce development programs would provide local residents with improved access to engage with the creative economy sector, while expanded cultural programs would be designed to support and nurture community dialogue, and to expand on growing partnerships with local nonprofits.

ABOUT BASILICA HUDSON
Basilica Hudson is a non-profit multidisciplinary arts center supporting the creation, production and presentation of independent and innovative arts and culture while fostering sustainable community. Founded in 2010 by musician Melissa Auf der Maur and filmmaker Tony Stone, Basilica Hudson makes its home in a spectacular solar-powered reclaimed 1880s industrial factory on the waterfront of the historic City of Hudson.

Each season, more than 75 local, national and international artists perform and present work at Basilica in experiential and multidisciplinary art and culture programs, and 100+ local and regional businesses - farmers, chefs, collectors and makers of all kinds - participate in marketplace events, showcasing the region's artisanal and agricultural heritage.

Basilica Hudson's artistic program has taken shape through collaborations with many partners, visiting artists and friends. Supported by adventurous audiences and community members, Basilica Hudson welcomes more than 40,000 local, regional and international visitors to programs and events each season. Drawing inspiration from its location, a range of community programs reaching into the admirable history and resurgence of agriculture and farming in the Hudson Valley are now presented alongside regular arts programs. Basilica Hudson presents more than 35 programs each season, from one-night screenings to weekend festivals, anchored by major annual events including two music festivals and two large-scale marketplace events, as well as film screening series, art exhibitions, special performances, concerts, and literary and food-related events.

Visit basilicahudson.org for more information on all upcoming events this season.