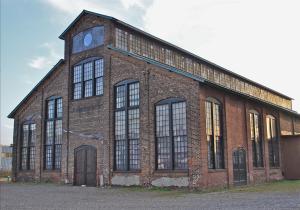 Hudson, N.Y. - Basilica Hudson, a leading nonprofit multi-disciplinary arts center founded by musician Melissa Auf der Maur and filmmaker Tony Stone, celebrates its first-ever Kickstarter campaign. Having already surpassed their initial goal of $35,000, Basilica Hudson continues to raise funds to support their projected loss of income for the first half of 2021. As a beacon in Hudson for explorative and innovative programming while maintaining its commitment to waterfront access and preservation, Basilica Hudson aims to maintain their mission through the Kickstarter campaign, reaching their vast global and local audience for support.
ANNOUNCING: October Basilica Conversation + Installation Series 
With ten years of incubating and presenting immersive art and performance, film and community gatherings, Basilica Hudson announces a series (both online and outside) of performances, art installations and conversations. Starting with the Basilica Conversation Series: Inspired by the beloved art factory's expanded mission referred to as BASILICA GREEN, Basilica Hudson has programmed this series to engage and activate people in the urgent issues of climate and social justice. Hosting a series of conversations between local and national leaders in arts, activism, climate and social initiatives, Basilica will present each of the following conversations online through Zoom and Instagram Live.

Tues Oct 13 | 3PM EST | [http://]Watch here
Conversation Series: "Resilient Economy: How to build a more local, just and friendly economy" with Elise McMahon (LikeMindedObjects + Basilica Farm & Flea Partner) and Melissa Auf der Maur (Basilica Hudson) 

Thurs Oct 15 | 3PM EST | [http://]Watch here
Conversation Series: "HEART Hudson – Hudson Emergency Artist Response Team, Mutual Aid Funding for BIPOC Artists" with Shanekia McIntosh (Artist, Organizer) and Melissa Auf der Maur (Basilica Hudson)

Tues Oct 20 | 3PM EST | On @BasilicaHudson social media
Conversation Series: "Intersectionality and Art" with Camae Ayewa (Moor Mother) and Melissa Auf der Maur (Basilica Hudson)

Thurs Oct 22 | 3PM EST | On @BasilicaHudson social media
Conversation Series: "The Intersectionality of Climate, Social and the Economic Justice"  with Rebecca Foon (Pathway to Paris / 1000 Cities), Susan Danziger (The Spark of Hudson), Rebecca Wolff (City of Hudson Alderperson), Joshua M. Cohen (Director of Campaigns, Environmental Advocates NY), and Melissa Auf der Maur (Basilica Hudson)

Additionally, the Basilica Installation Series centers around BASILICA GREEN's mission to leverage the power of the arts to communicate and educate on the most critical issues of today. Basilica Hudson has three extraordinary artists and projects in-house this month, available to the public on the Basilica campus or online. 

The October series features multi-media installation artist Anita Glesta, traveling civic engagement flag project Grand Flag, and current Basilica Back Gallery Artist in Residence Mary Mattingly. During this time of pause in large-scale public programming, Basilica is buzzing inside and out with these progressive and dynamic artists who set the stage for community conversation.

Grand Flag
Oct 9 – Oct 31 on display on North Facade of Basilica 
Grand Flag is an ongoing Brooklyn-based project focused on promoting the free expression of art and ideas in a public space. 10 artist-designed flags will be mounted on the facade of Basilica Hudson for the month of October, featuring Justin Amrhein, K.K. Kozik, Lee Boroson, Laura Miller Tomaselli, James Esber, Bob Seng. Jane Fine, Katro Storm, David Humphrey and Deborah Zlotsky.

WATERSHED by Anita Glesta
FRI / SAT Oct 23-24 | Sunset til Midnight
FRI / SAT Oct 30-31 | Sunset til Midnight
Basilica is excited to work with multi-media installation artist Anita Glesta presenting WATERSHED, a large-scale public artwork that has exhibited around the world. The project's mission is to expand community awareness regarding the climate change realities we face around our watershed, waterfront, and mixed-use community environments. The outdoor video installation will be projected from the Basilica onto an industrial concrete buttress building along the Hudson waterfront. Implicit in Glesta's decision to project fish on this structure symbolizes a resurrection of the relationship of the water to the land on the Hudson shoreline. The moving image of fish swimming across the surface of the dilapidated concrete structure raises awareness of the Hudson River's vulnerability to future flooding.

Basilica Back Gallery Artist In Residence: Mary Mattingly: ECOTOPIAN LIBRARY Artist Talk and Panel Discussion about the library of the future.
Thurs Oct 29 | 6PM EST

Mary Mattingly will discuss her work on the Ecotopian Library project, focusing on her plans for permanent installation of the Ecotopian Library in Hudson as part of Toolshed (tool-shed.org), a platform to gather and share tools for a livable future created by artists Susannah Sayler and Edward Morris (Sayler/Morris). A panel discussion on the role of art and imaginative thinking in the Library of the Future will follow with Cora Fisher, Curator of Visual Art Programming at the Brooklyn Public Library, as well as Rebekkah Smith Aldrich, Executive Director of the Mid-Hudson Library System. The panel will be moderated by Edward Morris. Toolshed is created in partnership with Basilica Hudson and is working with Basilica on its Basilica Green initiatives. 
 
Elvis Perkins Album Release Livestream
Basilica will host poetic storyteller Elvis Perkins, Hudson-based musician, who is releasing his new album Creation Myths. He will give a special (live-streamed) performance from inside the Basilica Hudson North Hall on Thursday, Oct 15 at 9pm EST. 
 

ABOUT BASILICA HUDSON
Founded in 2010 by musician Melissa Auf der Maur and filmmaker Tony Stone, Basilica Hudson, a 501(c)(3) nonprofit located in Hudson N.Y., aims to foster a more sustainable community, ecology and economy through cultural activism and the presentation of innovative multidisciplinary programming.

Housed in a reclaimed, solar-powered 1880s industrial factory on the Hudson Riverfront, Basilica Hudson invites 40,000 annual visitors to discover the Hudson Valley's rich legacy of cultural and environmental movements through its free and low cost public programs.
 
In celebration of its 10-year anniversary, Basilica Hudson brings local and global green initiatives to the forefront of its creative mission and looks forward to another decade of serving the City of Hudson, inspiring collective social and environmental action while bringing people together through the transformative power of art.

ABOUT TOOLSHED
Toolshed was created by artist duo Susannah Sayler and Edward Morris (Sayler/Morris), founders of The Canary Project, a groundbreaking platform for deepening public understanding of climate change (2006-2020). Working at the nexus of art, ecology, education and activism, Toolshed gathers and shares tools for an equitable, livable future. Beginning at the local level, with an initial focus on the Hudson Valley, Toolshed brings together a diversity of people actively engaged in deepening our understanding of ecology while developing methods for living in balance and in consideration of others.


SUPPORTERS
The Hudson As Muse Basilica Back Gallery Artist In Residence Series is supported in part by an award from the National Endowment for the Arts. To find out more about how National Endowment for the Arts grants impact individuals and communities, visit www.arts.gov.

The Hudson As Muse Basilica Back Gallery Artist In Residence Series is generously supported, in part, by the New York State Council on the Arts with the support of Governor Andrew M. Cuomo and the New York State Legislature.

Basilica Net Zero Campus Project is supported by NYSERDA's Net Zero Energy for Economic Development Program.

The Conversation and Installation Series is supported in part by Red Bull. 

Basilica Hudson's music and marketplace programs are supported by a large roster of generous sponsors and community partners. More information is available at Basilica Hudson Supporters. 

Top photo by Bill Stone