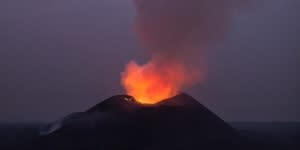 The multidisciplinary arts center will partner with Youth FX and Hudson Area Library to present free film screenings throughout summer 2018
2018 film program will include monthly documentary screenings and monthly Sunday family matinees
All screenings will be FREE and open to the public
Hudson, N.Y. - Basilica Hudson has announced the launch of an expanded summer film program which will invite residents of the Hudson Valley and beyond to enjoy a series of free public screenings. Programmed in collaboration with NeXt Doc - a program of Youth FX and the Logan Non-Fiction Program - the Basilica Non-Fiction Screening Series will return for its third year, exploring the documentary genre through screenings and dialogue with visiting directors.

Basilica Hudson will also partner with Youth FX and Hudson Area Library to introduce young audiences to the power of film in a new documentary film program named Watch + Talk. Designed to engage young people in a shared viewing experience and offer an important counterbalance to the typical solitary small-screen experience, Watch + Talk screenings will take place monthly on Thursdays and will be programmed in collaboration with NeXt Doc. The program is specifically designed to engage communities without regular access to a forum for discussion and exploration through film.
 
In partnership with New York International Children's Film Festival, a family-focused matinee screening series will take place on monthly Sunday afternoons, including the festival's Kid Flix selection of the best shorts from this year's event. The newly expanded program will mark Basilica Hudson's first free public screening series.

"We are thrilled to partner with Youth FX", said Basilica Hudson co-founder and filmmaker Tony Stone. "Cultivating the voices of young people is more crucial than ever, and Youth FX's commitment to nurturing and inspiring the next generation of filmmakers is deeply aligned with Basilica's focus on independent voices in film. Through programs like NeXt Doc, Youth FX helps ensure that real-life voices are empowered to tell their own stories through the language of cinema."

The Basilica Non-Fiction Screening Series will launch on June 14 with a screening of Hudson based filmmaker Daniel McCabe's THIS IS CONGO, with McCabe in conversation following the screening. The film provides an immersive and unfiltered look into Africa's longest continuing conflict and those who are surviving within it. By following four compelling characters — a whistleblower, a patriotic military commander, a mineral dealer and a displaced tailor — the film offers viewers a truly Congolese perspective on the problems that plague this lushly beautiful nation.

"Mama Romance, Hakiza, Mamadou and "Colonel Kasongo" live the story of a country plagued by instability and exploitation," says Daniel McCabe of the film's four central characters. "By giving voice to the often unheard, feared and exoticized Congo, they put themselves at risk in the name of helping create a true picture of one of the most complicated conflicts in the world. I found their stories and struggles universal and was continually moved by their strength of will and drive for peace and stability. Their dedication and desire to share with the outside world, despite the potential danger to their lives, is bold, and I hope that THIS IS CONGO does them justice. They deserve it."

The event will be a hometown screening for Hudson resident McCabe, and will take place two weeks before the film's official theatrical release. Food and drink will be available for purchase throughout the evening, supplied by Kingston restaurant and food truck DUO, with an after-party featuring music and dancing following the screening.
 
ABOUT BASILICA NON-FICTION SCREENING SERIES
THIS IS CONGO marks the return of Basilica Hudson's Basilica Non-Fiction Screening Series, which explores the documentary genre through screenings and dialogue with visiting directors. Now in its third year, the series was developed in partnership with Chris Boekmann of Colombia MO's acclaimed True/False Film Fest. The 2018 series will be produced in collaboration with NeXt Doc, a program of Youth FX and the Carey Institute for Global Good, and newly formalized partners of True/False Film Fest.

The series has previously included documentary films including Oscar nominee Abacus: Small Enough To Jail and is part of Basilica's long-standing film program. Now in its seventh year, Basilica's film program has displayed a longstanding commitment to bringing independent and innovative voices in film to the Hudson waterfront, through new and repertory film and video art, often with filmmakers and special guests in conversation.

ABOUT WATCH + TALK AND FAMILY MATINEES
Beginning with THIS IS CONGO and new for 2018, Basilica's film program will also see the launch of Watch + Talk. A new series focused on youth and teens, Watch + Talk will be presented in partnership with the Hudson Area Library and Youth FX to bring free and accessible matinee screenings to the region's young people. Watch + Talk is supported by a grant from the Fund for Columbia County, a fund of Berkshire Taconic Community Foundation.
Watch + Talk is open to all local youth organizations. Interested youth organizations may contact Basilica Hudson for more information.

Drawing on the world class selections at True/False Film Fest and New York International Children's Film Festival - both international leaders in their fields - the series will bring together an international program designed to expand young minds by offering windows into other cultures and forging local connections to root audiences to their community and shared experiences. The Basilica Non-Fiction Screening Series and Watch + Talk matinee screenings will continue through summer 2018 on selected Thursdays. Basilica's Family Matinees will take place on monthly Sundays throughout the summer.

All screenings will take place against the raw, industrial backdrop of Basilica Hudson's solar-powered reclaimed factory, with the spectacular Hudson River and Catskill Mountains on the horizon. More information on all upcoming programs at Basilica Hudson can be found at basilicahudson.org

ABOUT BASILICA HUDSON
Basilica Hudson is a non-profit multidisciplinary arts center supporting the creation, production and presentation of independent and innovative arts and culture while fostering sustainable community. Founded in 2010 by musician Melissa Auf der Maur and filmmaker Tony Stone, Basilica Hudson makes its home in a spectacular solar-powered reclaimed 1880s industrial factory on the waterfront of the historic City of Hudson. Weekend destination events comprise the core of Basilica Hudson's Immersive, avant garde music, performance, film, food and literary programming, alongside regular film screenings series, art exhibitions, and other community gatherings.
Basilica Hudson presents more than 35 programs each season, from one-night screenings to weekend festivals, anchored by major annual events including two music festivals and two large-scale marketplace events, as well as film screening series, art exhibitions, special performances, concerts, and literary and food-related events. The artistic program has taken shape through collaborations with many partners, visiting artists and friends, and is supported by adventurous audiences and community members. Each season, more than 75 local, national and international artists perform and present work at Basilica and 100+ local and regional businesses - farmers, chefs, collectors and makers of all kinds - participate in marketplace events, showcasing the region's artisanal and agricultural heritage. Basilica Hudson welcomes more than 40,000 local, regional and international visitors to programs and events each season.

ABOUT NEXT DOC
Albany-based Youth FX is committed to amplifying the voices of people of color through digital filmmaking and storytelling, and NeXt Doc, an intensive fellowship program, brings together emerging documentary storytellers with award-winning documentary filmmakers to learn, share, and build their skills. NeXt Doc gathers a dynamic community of emerging documentary filmmakers aged 18-24 at The Carey Institute's campus in upstate New York and provides an inspiring five days of learning, sharing and building community. A partnership between Youth FX and the Carey Institute for Global Good, NeXt Doc brings together emerging documentary storytellers from across the country with award-winning documentary filmmakers to learn, share, and build skills. The NeXt Doc program includes masterclasses and film screenings presented by award-winning filmmakers along with workshops led by our team that explore project development, treatment writing, budgeting, doc history and critical explorations of power and representation in non-fiction storytelling. NeXt Doc is a one-of-a-kind opportunity for young diverse documentary filmmakers.
ABOUT HUDSON AREA LIBRARY
The Hudson Area Library is a welcoming, vibrant and integral part of Hudson's intellectual and cultural life. The Hudson Area Library enriches the quality of life of Hudson's community by providing free and equal access to programs, services and resources, and by creating opportunities for all members of our community to connect, create, learn and grow.

ABOUT CHRIS BOECKMANN
Chris Boeckmann is a film programmer for the Columbia, MO-based True/False Film Fest and Ragtag Cinema. At True/False, he oversees the festival's Neither/Nor sidebar, which brings documentary legends to mid-Missouri. And at Ragtag, he organizes free educational screenings with local nonprofit organizations. His writing has appeared in Film Comment and Filmmaker Magazine.

ABOUT TRUE/FALSE
Now entering its fourteenth year, the True/False Film Fest honors outstanding work in the blossoming field of nonfiction cinema. True/False is a celebration of distinct filmmaking voices from all over the world and an opportunity to discuss and appreciate the ways in which documentary films are constructed. Taking place over one weekend in Columbia, Missouri, the fest is a non-fiction utopia, alive with enthusiasm for cinema, as festgoers pack screenings and even take part in a documentary parade. Focusing on collegiality and the connections between diverse filmmakers rather than on awards and honorifics, True/False fosters non-competitive camaraderie and an unhurried opportunity to view and discuss great films.
ABOUT NEW YORK INTERNATIONAL CHILDREN'S FILM FESTIVAL'S KID FLIX
Kid Flix includes the best short films from New York International Children's Film Festival, the largest film festival for kids and teens. Each year, NYICFF scours the globe for the best new films from around the world. KID FLIX brings together two programs of audience favorites and award-winners from the 2017, 20th anniversary edition.
 
Visit basilicahudson.org for more information on all upcoming events this season.

WEBSITE | FACEBOOK | TWITTER | INSTAGRAM
Press Contact: Kate Hewett
kate@basilicahudson.org