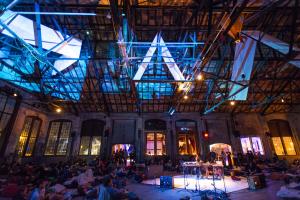 The Hudson, NY multi-disciplinary arts center's annual experiment in sound and music will return for a sixth consecutive year, as Basilica Hudson celebrates its ten-year anniversary

Hudson, N.Y. – Basilica Hudson - the multidisciplinary arts center founded by musician Melissa Auf der Maur and filmmaker Tony Stone - has announced the return of its annual 24-HOUR DRONE experimental music and sound program. An all-encompassing, immersive event, 24-HOUR DRONE features musicians and sound artists experimenting with sustained tones, creating a full twenty-four hours of unbroken sound, and invites attendees to escape the tight hands of time in a long-form, endurance homage to sound. 2020 marks both the sixth iteration of 24-HOUR DRONE, and Basilica's celebratory ten-year anniversary season. A program with deep roots in Basilica Hudson's growth as an organization, 24-HOUR DRONE has been at the heart of the Basilica ethos since before the arts center even began.

As Melissa Auf der Maur says:
"The idea for 24-HOUR DRONE was sparked years ago during a late-night New Years Eve conversation in Hudson, New York between us and our Dutch houseguest, Le Guess Who? music festival organizer Bob van Heur. On that cold winter night, we gazed at the 1880s industrial factory from our balcony, and it called to us: "24 hours of sound please!" The drone dream was our first impression of and first intention for Basilica, where we began our art and community programs in 2010. In 2014 the dream was realized, and 24-HOUR DRONE was born."

Sound without bounds is at the heart of the 24-HOUR DRONE programming, with ancient, traditional and under-represented instrumentation heavily explored, and 2020's bill is no different, with artistry from throat-singing to theremin, from gongs to guitars, and from brass to glass percussion.

As frequent DRONE collaborator and 24-HOUR DRONE fan Nathan Larson of Lumen Project puts it:
"Is there anything like Basilica Hudson's 24-HOUR DRONE? I can think of very few events that manage to embody the physical space in which they occur, reflect the character of a unique community, and manifest such a clear vision. 24-HOUR DRONE is one of my happy places. It's church. It's inspired me to pivot artistically, to rethink what I do and how to move through the world. For anyone even casually interested in new ways to be involved with music and art, or the therapeutic potential of sound and space, or new methods of presenting 'experimental' music and sound art and performance, 24-HOUR DRONE is a look at better possible futures. 24-HOUR DRONE is a renewed sense of magic."

In keeping with Basilica's long-standing practice of collaboration and creative exchange, 2020's 24-HOUR DRONE invites a number of guest curators to participate in the bill of musicians and sound artists. Lumen Project will present Malmö, Sweden rock duo Solar; long-standing collaborators and co-presenters of 24-HOUR DRONE Le Guess Who? will return, presenting a three-hour block of programming, and more collaborators are still to be announced.

At each installment of 24-HOUR DRONE, organisers put out an open call for submissions, often leading to some of the most vibrant and far-reaching projects presented at the event. 2020 is no different, with the Red Thread #2 vocal choir, Samer Ghadry's gong orchestra, Alex Butterfield's throat singing, Infrasubcontra's late night deep brass duo, and more amongst the first announcements. Drone ensemble Golden Clover will perform a set based in the minimalist and drone traditions of Tony Conrad, John Cale, La Monte Young and Marian Zazeela. Sophia Shen will present a series of immersive texture pieces inspired by the night and composed using found sounds, modular synthesizer and digital sound processing.

2020's 24-HOUR DRONE will also feature Gesture of Friendship: 100 years of the Theremin, a special collaborative performance to commemorate the centennial of the theremin and celebrate its unique history and impact. DRONE alumni January Hunt and Octonomy will return, performing a set of new collaborative work as the sun rises over the Hudson Valley. Author and improvising text-sound artist IONE will also return to Basilica to close out 24-HOUR DRONE with a heart chant in the spirit of her creative partner and spouse of 30 years, Pauline Oliveros.

Outside of and alongside Basilica Hudson's own iteration of 24-HOUR DRONE, the project is also concerned with spreading its dream of collaboration and experimentation across borders. 24-HOUR DRONE events have taken place internationally, with previous events in Manchester in UK, Malmo and Stockholm in Sweden, Utrecht in Netherlands, Winnipeg in Canada and Husavik in Iceland.

Tickets for 24-HOUR DRONE 2020 are available now at Basilica Hudson's website, priced from $48 for the full 24 hours.
Basilica Hudson and Le Guess Who? present
24-HOUR DRONE: EXPERIMENTS IN SOUND & MUSIC
Saturday, April 25 - Sunday, April 26, 2020
TICKETS | WEBSITE

ABOUT BASILICA HUDSON
Founded in 2010 by Melissa Auf der Maur and Tony Stone, Basilica Hudson is a 501(c)(3) non-profit multidisciplinary art center supporting the creation and production of innovative art and ecological programming to further the region's creative economy and help build a more liveable future.

Housed in a reclaimed, solar-powered 1880s industrial factory on the riverfront in Hudson, NY and walking distance to a major Amtrak station, Basilica produces 30+ free and low cost programs that invite visitors to discover the Hudson Valley's rich legacy of cultural and environmental movements.

In celebration of its 10-year anniversary, Basilica Ten brings local and global green initiatives to the forefront of its creative mission through expanded programs and new strategic partnerships with leaders in the field of sustainability.

Basilica looks forward to another decade of furthering the creative economy, serving our community and inspiring collective climate action while bringing people together through the transformative power of music, art and culture.

ABOUT LE GUESS WHO?
Le Guess Who?, Basilica Hudson's curatorial partner in 24-HOUR DRONE, is The Netherlands' most forward-thinking festival, dedicated to boundary-crossing music and culture. The 14th edition of the festival takes place 12 - 15 November 2020 throughout the city of Utrecht.
Press Contact: Kate Hewett
kate@basilicahudson.org