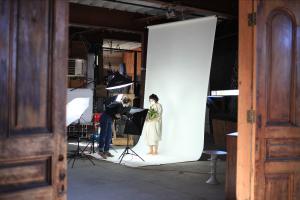 Hudson, NY - Basilica Hudson co-presents with creative studio LikeMindedObjects the first ever Basilica Farm & Flea Virtual Market, featuring a diverse selection of over 70 Hudson Valley based businesses, in place of its annual in-person Basilica Farm & Flea Holiday Market. Basilica's curatorial eye and devotion to the creative community will help provide many participants with the nest egg needed to carry them through the slower winter months.  

This Holiday Season, Basilica Hudson will host the virtual market on their website to access more than 70 clickable vendors and products for purchase directly from each webshop. Additionally, Basilica Hudson will run a promotional campaign on their social media to highlight participating vendors, and will also conduct Instagram Live interviews with a diverse range of business owners. This includes herbalist, activist and educator Lauren Giambrone of Good Fight Herb Co., Tiffany Garriga of Moisturize Me & the Black Entrepreneur Market, and regenerative farmers Freya & Melany Dobson of Hudson Hemp & Treaty. 
 
For the past eight years, Basilica Hudson has held an epic, large-scale community market celebrating the Hudson Valley's creative entrepreneurial pursuits through the Basilica Farm & Flea Holiday Market. This year, with the pandemic causing all to pause 2020 in-person programming, Basilica Hudson is committed as a resource connecting our community of thoughtful shoppers to Hudson Valley based businesses. During important months for holiday shopping, Basilica Farm & Flea promotes the sustainability of small businesses independent of commercialism. 

"Missing out on a celebratory in-person 10-year anniversary season has been heartbreaking for Basilica, BUT it has also been a call to action and transformation. Being a platform for independent voices while fostering sustainable community and economy is central to our mission. Farm & Flea is a direct manifestation of that commitment and has been such a rewarding experience for all involved. Originally a response to the big box Black Friday super sales, but now a virtual response to Amazon, the monster in our consumer realm! This pandemic is hitting hard on our cultural and social livelihoods, so sticking together locally and putting our creative minds together is how we will get through this challenging time. The silver lining has made itself clear to all engaged and living in our dynamic region, and we feel so fortunate to be a part of that." - Melissa Auf der Maur, Basilica Hudson Co-Founder and Director

To help businesses transition to online shopping, and with the support of the City of Hudson Tourism Board, Basilica Farm & Flea Virtual Market hosted an educational webinar and product photography session offered for free to participants. Elise McMahon of LikeMindedObjects led a webinar joined by e-commerce experts Alex Petraglia of the Hudson Business Coalition and Hillary France of Hudson Wylde, as well as photographer Angelina Dreem of Dreem Reality Inc. The goal was to remove the barriers of entry for the local  business community, who primarily sell at in-person markets. 

While Basilica Hudson has had its own financial strain due to Covid-19 resulting in limited capacity on site, their intent is to be a resource for the community of local businesses during the crucial months of holiday shopping. Basilica truly believes in the importance of ethical small businesses building positive futures and wants to assist in sustaining the income of these businesses through this difficult time. Basilica recognizes that the majority of holiday shopping this year will be online and feels uniquely equipped to help link their large network of past visitors doing their holiday shopping with regional small businesses and local organizations. 

The 2020 education workshops and promotion were offered for free for past Basilica Farm & Flea Holiday Market vendors and any Hudson-based businesses, in addition to any partnering organizations hoping to move their products online. Basilica offered workshops in tandem with organizations known throughout Hudson who work with marginalized communities, making direct outreach to include businesses that previously might have felt hindered by vendor fees.

The Basilica Farm & Flea Virtual Market features a wide range of regional vendors selling their wares, from vintage and recycled to locally-sourced agriculture and the beautifully handmade. New vendors include: Essential Charlie, an eco friendly candle; MoisturizeMe, and organic butter product; Paired Candle Bar, candle, diffusers and room spray; Riverside Paws, pet photography; Robert Vintage Home, a curated collection of desirable vintage home furniture; Sarah Mijares Studio, unique ceramic homeware; Glow Juice, a miracle skincare; Studio Taulapapa; Shakespeare's; CRCL EARTH, creating healthy, sustainable pillows; Hudson Rose Company; and I Am Beauty Story. In addition, Basilica Farm & Flea is offering a custom Basilica Farm & Flea curated gift guide by request.

COMMUNITY PARTNERS
Basilica Hudson could not realize its ambition of showcasing the talents of the Hudson Valley through Farm & Flea without the generous support of its community partners, including The City of Hudson Tourism Board, Stewart's Shops, Green Mountain Energy and Red Bull.

More information on all upcoming programs can be found at basilicahudson.org. Hudson Area Library and Perfect Ten have been amazing allies for the Basilica Farm & Flea Virtual Market, and other organizations have participated in the recruitment process by sharing this opportunity through social media, including Columbia Economic Development Corporation (CEDC), Hudson Business Coalition, Hudson Community Incubator, Office of Hudson Mayor Kamal Johnson, Hudson Tourism Board, and the Black Entrepreneur Market.

ABOUT BASILICA HUDSON 
Founded in 2010 by musician Melissa Auf der Maur and filmmaker Tony Stone, Basilica Hudson, a 501(c)(3) nonprofit located in Hudson N.Y., aims to foster a more sustainable community, ecology and economy through cultural activism and the presentation of innovative multidisciplinary programming.

Housed in a reclaimed, solar-powered 1880s industrial factory on the Hudson Riverfront, Basilica Hudson invites 40,000 annual visitors to discover the Hudson Valley's rich legacy of cultural and environmental movements through its free and low cost public programs.
 
In celebration of its 10-year anniversary, Basilica Hudson brings local and global green initiatives to the forefront of its creative mission and looks forward to another decade of serving the City of Hudson, inspiring collective social and environmental action while bringing people together through the transformative power of art.

ABOUT LIKEMINDEDOBJECTS
LikeMindedObjects is the design studio of artist Elise McMahon, who sees each object as holding a story of social and material culture from extraction to disposal. McMahon's depth of knowledge around craft and history came from training in the Bauhaus method of design at Rhode Island School of Design for her BFA & Industrial Design w a focus on Sustainability at Parsons School of Design for her MFA. Through LikeMindedObjects and other art and education projects, she experiments fluidly towards the seamless combination of art and industry. Her work in Art, Design, Research and Education has resulted in international projects and diverse press coverage. 

ABOUT BASILICA FARM & FLEA
Basilica Farm & Flea launched in 2013 as a holiday alternative to Black Friday shopping, with a carefully-selected variety of makers, collectors and farmers harnessing the spirit and beauty of the Hudson Valley. Basilica Farm & Flea Spring Market followed in 2016, forming a dynamic weekend of celebration and acting as an annual bookend to each year's Holiday Market. With a firm 'no barcode, no plastic wrap' ethos, both markets seek to promote the talents and resources within the Hudson Valley and provide an alternative to mass manufactured products. Set against the beautiful, industrial setting of Basilica Hudson's 1880's repurposed factory, the market is a perfect way to find an extraordinary array of local, vintage and handmade objects, representing the abundance and splendor of the Hudson Valley. Basilica Farm & Flea is designed to be a locally-focused testament to the Hudson Valley region and its growing abundance of makers and creatives.
WEBSITE
DOWNLOAD HIGH RES PRESS PHOTOS
Press Contact: 
Allison Young
allison@basilicahudson.org