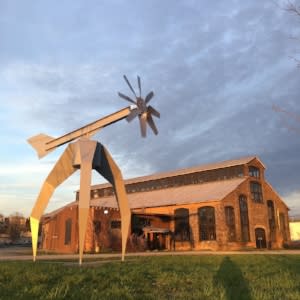 Located on the waterfront of the historic city of Hudson, the multi-disciplinary arts center dives into its summer season
Hudson, NY - Basilica's summer program will continue on Friday June 9 with the return of the Basilica Non-Fiction Screening series. The series will form part of Basilica's long-standing film program, which is now in its sixth year and continues to present an array of works from new and repertory narrative features, documentaries, experimental films, to video and media art.

Basilica Non-Fiction Screening Series
June 9 will see award-winning Baltimore filmmaker Theo Anthony come to Basilica for a discussion and screening of his critically-acclaimed documentary RAT FILM. The film explores the history of Baltimore via the rat, and the humans that love them, live with them and kill them. With more to be announced throughout summer 2017, June's program will continue with a screening of Jonathan Demme's long-unavailable 1992 film Cousin Bobby on June 22 in tribute to the Silence of the Lambs director, who passed away earlier this year.

The Basilica Non-Fiction Screening Series will again be produced in collaboration with Chris Boeckmann, film programmer for the Columbia, MO-based True/False Film Fest, a pioneering film festival dedicated to exploring creative non-fiction film.

"Film has been at the center of Basilica Hudson's programming since its founding," said Basilica Hudson Co-Founder Tony Stone. "We are committed to bringing important new films to Hudson, to serve our dedicated film audience and to reach new communities through our expanded roster of programming."

Tickets for all events in the Basilica Non-Fiction Screening Series are available at the door on a sliding scale from $5 to $10.

(FREAK) FLAG DAY
Basilica Hudson's June program will continue on June 10 with the inclusive after-dark (FREAK) FLAG DAY party. Cloaked by night and surrounded by colorful explosions, Basilica Hudson's (FREAK) FLAG DAY is a freakier counterpart to the city's Flag Day festivities, with performances and dancing into the early morning.

The evening kicks off at sundown with the best seat in town for Hudson's spectacular fireworks display - one of the largest in the Hudson Valley, launched from Basilica Hudson's parking lot. The freaky festivities kick off from there, with free-entry visual art from 6PM and a dark-wave electronic goth rave from 8PM.

Much of Basilica's stellar visual art offering will be on display throughout (FREAK) FLAG DAY, with a free celebration of the work of the region's acclaimed local artists at the heart of the event. Basilica's Back Gallery will host the opening of Local Character, the culmination of painter Jim Krewson's May Artist-in-Residency, with his beautifully-realistic portraits of Hudsonites on view. The exhibition expands on the theme of Basilica Hudson's 2017 Back Gallery program by exploring Hudson and the eclectic present and past of this river city.

Basilica Hudson has also secured the participation of two more highly-original artists, whose work be on display in the space solely for (FREAK) FLAG DAY. In Basilica's Main Hall, critically-acclaimed Hudson-based artist Dave Cole presents his large-scale work Flags of the World, a patchwork quilt of an American flag fabricated to the US standard proportions and comprised entirely of an official United Nations Flags of the World set. Also on Basilica grounds will be Lily Dale, a virtual reality (VR) experience in the Ford Econoline shuttle bus Dream Wanderer, created by New York duo Flatsitter.

(FREAK) FLAG DAY-goers will also be invited to roam the grounds of Basilica Hudson, taking in Kris Perry's monumental kinetic sculpture Revolution, which stands framed by the majestic Catskill mountain sunset as backdrop. A friend and frequent collaborator of Basilica, Kris' workshop is in Hudson, but his large-scale works have been commissioned and exhibited across the country.

As nighttime falls on (FREAK) FLAG DAY, the world caves in with a gothic electronic rave set by SEVEN T*TS, Alger Moy, DJ Danny Cash Cash + DJ Lavish and SVB in Basilica's West Wing.

Basilica Hudson Director and Co-Founder Melissa Auf der Maur says: "We are committed to doing this annual event in response to and in celebration of Flag Day. We are excited to participate in the dialogue of Hudson pride traditions, in our own Basilica way. There has been a great response to past incarnations of this event, by locals and visitors alike, celebrating the dynamic creative community in this region."

Tickets for the (FREAK) FLAG DAY dance party are available at the door, priced at $5.

Contemporary Choreography
From (FREAK) FLAG DAY to Pride weekend, the Basilica program moves onwards to contemporary choreography, as Basilica Hudson's guardian angel of dance, Jonah Bokaer, returns for a special performance of his immersive piece Occupant from June 15 to June 17.

Occupant is a trio for three dancers performed by Tal Adler-Arieli, Sara Procopio and Betti Rollo. It will be preceded by a Jonah Bokaer solo, Study For Occupant. Both pieces will be presented with scenic collaborations with Daniel Arsham. Minimal and mesmerizing, these works were inspired by the Edward Albee play of the same name. Occupant has been presented worldwide, and Jonah's three day residency will mark his third performance at Basilica Hudson.

Tickets for all three days of Jonah Bokaer's Occupant are onsale now via basilicahudson.org.

The Basilica team will be soon to announce further events for the space's summer 2017 program. In the meantime, though, lovers of books and food should ensure that they keep Sunday June 23 free for the return of Read & Feed Festival of Literature and Food. Later in the summer, August 11 will be given over to an evening of chamber music, with the Music From High Peaks concert. Full details of all events can be found at basilicahudson.org
About Basilica Hudson
Basilica Hudson is a non-profit multidisciplinary arts center in Hudson, NY, supporting the creation, production and presentation of arts and culture while fostering sustainable community. Founded in 2010 by musician Melissa Auf der Maur and filmmaker Tony Stone, Basilica Hudson makes its home in a spectacular solar-powered reclaimed 1880s industrial factory on the waterfront of the historic City of Hudson. Weekend destination events comprise the core of Basilica Hudson's music, performance, film, food and literary programming, alongside regular film screenings series, art exhibitions, and other community gatherings. The artistic program has taken shape thanks to many partners, collaborators, visiting artists, friends, adventurous audiences and community members.

About Chris Boeckmann
Chris Boeckmann is a film programmer for the Columbia, MO-based True/False Film Fest and Ragtag Cinema. At True/False, he oversees the festival's Neither/Nor sidebar, which brings documentary legends to mid-Missouri. And at Ragtag, he organizes free educational screenings with local nonprofit organizations. His writing has appeared in Film Comment and Filmmaker Magazine.

About True/False Film Fest
Now entering its fourteenth year, the True/False Film Fest honors outstanding work in the blossoming field of nonfiction cinema. True/False is a celebration of distinct filmmaking voices from all over the world and an opportunity to discuss and appreciate the ways in which documentary films are constructed. Taking place over one weekend in Columbia, Missouri, the fest is a non-fiction utopia, alive with enthusiasm for cinema, as fest-goers pack screenings and even take part in a documentary parade. Focusing on collegiality and the connections between diverse filmmakers rather than on awards and honorifics, True/False fosters non-competitive camaraderie and an unhurried opportunity to view and discuss great films.

About Jim Krewson
Jim Krewson has been producing video art, oil portraits, chocolate and vanilla cakes graphically depicting sexual acts, airbrush paintings of nude celebrities and lewd online personal ads, films of stuffed animal Taco Bell employees; screaming, fit-throwing sculptures and Old Time banjo songs for the better part of 20 years. His work has appeared in publications such as Time Out New York, The New York Times, The New York Press, The Wall Street Journal, Vice, Barracuda and Swank. He has shown with Gavin Brown Enterprises, Andrew Kreps Gallery and Zach Feuer Gallery, among many others. His artwork can be seen as props on Saturday Night Live and the films Mrs. Doubtfire, So I Married an Ax Murderer and Get Shorty 2.

About Dave Cole
Dave Cole attended The Putney School and Landmark College before receiving his AB from Brown University in 2000. His work has been exhibited internationally at acclaimed venues including MASS MoCA, North Adams, MA; Renwick Gallery at the Smithsonian American Art Museum, Washington, D.C.; the Museum of Arts and Design, New York, NY; Vestlanske Kunstindustrimuseum, Bergen, Norway; Nasjonal Museet, Oslo, Norway; Haifa Museum of Art, Haifa, Israel; and Textielmuseum, Tilburg, Netherlands. He was the recipient of the deCordova Sculpture Park and Museum's annual Rappaport Prize. Cole lives and works in Hudson, New York.

About Flatsitter
Flatsitter is an interdisciplinary collaborative led by Kyle Marler that incorporates video, film, virtual reality, performance and installation. The artistic works explore the periphery of our comprehension of human consciousness, and are exhibited in an array of formats, such as ephemeral web collections, live performances, site-specific installations, short films, and live virtual reality experiences.

About Kris Perry
Kris Perry, born in Berkeley, Ca., studied under illustrator Charles Pyle, and attended California College of Art. A skilled craftsperson and metal fabricator, he has worked with David Best on large scale projects. His own creation, the much-heralded "Machines," combines industrial sound sculptures with live performance, and has been exhibited in a number of galleries and venues. These collaborations have included Tommy Stinson, Elvis Perkins, Brian Dewan, and others. His large-scale kinetic sculptures have been commissioned and exhibited across the country.

About Jonah Bokaer Choreography
Tunisian-American choreographer Jonah Bokaer has been active as a choreographer and exhibiting artist since 2002. The creator of 57 works in a wide variety of media (dances, videos, drawings, motion capture works, interactive installations, mobile applications, and film), Bokaer's work has been produced in venues around the world, including Jacob's Pillow Dance Festival, BAM Next Wave Festival, Festival d'Avignon, Spoleto Festival, La Triennale di Milano, and SOLUNA International Music & Arts Festival. Bokaer has performed at the Guggenheim Museum, P.S.1 MoMA, and The New Museum in New York City. He was awarded a Young Leader of the French American Foundation, for founding Chez Bushwick in 2002, and co-founding CPR – Center for Performance Research with John Jasperse in 2008. Bokaer has collaborated with artists including Lynda Benglis, Anne Carson, Merce Cunningham, Robert Gober, Anthony McCall, Tino Sehgal, Lee Ufan (Guggenheim Retrospective 2011), and Robert Wilson (2007-Present). As choreographer for Robert Wilson, he has completed six operas, including Faust (Polish National Opera), Aïda (Teatro dell'Opera di Roma), and On The Beach (Baryshnikov Arts Center). Bokaer has collaborated with visual artist Daniel Arsham on nine full-length works since 2007. In 2015 he received the United States Artists Fellowship in Choreography (Ford Foundation), was named a John Simon Guggenheim Memorial Fellow in Choreography, and in 2016 won Italy's Civitella Ranieri Foundation Fellowship, in the Visual Arts category. In 2016, he was confirmed as one of the Resident Fellows at NYU Center for Ballet and the Arts.
Image: Kris Perry's Revolution