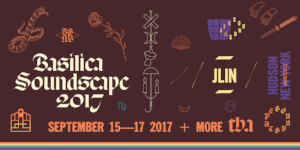 Additions Include Performances by Vivien Goldman, Yves Tumor, and Yvette, Readings by Morgan Parker and Amy Rose Spiegel, and After Parties
Weekend passes $75
Hudson, N.Y. - Basilica SoundScape has announced additional performers, readings and after parties for the 2017 edition of the festival, taking place Sept. 15-17. The new additions round out an already eclectic line-up of participants working across mediums, including journalist and musician Vivien Goldman, electronic musician Yves Tumor, noise rock duo Yvette, poet Morgan Parker and writer Amy Rose Spiegel.

The Half Moon, Basilica's sister neighborhood feel-good bar up the street, will host official Basilica SoundScape after parties on both Friday and Saturday nights, with special guest DJ sets from Rainbow In The Dark, Triangle Records, No Dawn (Sannhet), Harkin and more. Entry to the after parties is free with a SoundScape wristband. The festival will take place in Basilica Hudson's industrial factory in Hudson, NY September 15 – 17.
For the sixth straight year, Basilica Hudson's Founders and Creative Directors Melissa Auf der Maur and Tony Stone are working in collaboration with The Creative Independent Editor in Chief Brandon Stosuy to program Basilica SoundScape, a carefully curated weekend that's been called "the anti­festival" by various publications for offering of a thoughtful mix of music, visual art, and literature. This year they welcome back previous BSS Creative Director Michael Renaud to handle all aspects of visual design for the event and have added the talents of a special guest curator, Jenn Pelly, editor at Pitchfork, and author of a forthcoming book on the Raincoats.
Tickets are available now, and can be purchased HERE. The event is anticipated to sell-out ahead of time so purchasing tickets early is encouraged. A full line-up is below, with new additions highlighted.
MUSIC:
Bing & Ruth
Blanck Mass
Emel Mathlouthi
Jlin
John Maus
Moor Mother
Priests
Protomartyr
serpentwithfeet
Thou
Vivien Goldman
Yellow Eyes
Yves Tumor
Yvette
Zola Jesus
READINGS:
Amy Rose Spiegel
Darcie Wilder
Eileen Myles
Morgan Parker
Patty Schemel
VISUAL ART:
Emma Kohlmann
Jesse Draxler
Marianne Vitale
Naama Tsabar
AFTER PARTIES:
Harkin
No Dawn (Sannhet)
Rainbow In The Dark
Triangle Records
Accommodations
For the full upstate New York experience, the greenest and most affordable place to stay is at the official Basilica SoundScape campground, Meadowgreens, located a 15 minute drive from Basilica Hudson at 1238 State Route 9H, Ghent NY. Your camping passes include scheduled shuttles to and from the venue, so no car is needed. Make a reservation at the official BSS campground for $30 per person/per night or $60 for a weekend pass (limited availability!). Not into camping? Hudson is home to numerous B&B's and Airbnb rentals too!

Camping is per person, per night (or weekend), and includes camp spot and scheduled shuttles to/from venue. Does not include camping gear, but cars/campers are welcome. Adventurous spirit encouraged! Hudson is two hours north of New York City and easily accessible by Amtrak or car.

About Basilica Hudson
Basilica Hudson is a non-profit multidisciplinary arts center in Hudson, NY, supporting the creation, production and presentation of arts and culture while fostering sustainable community. Founded in 2010 by musician Melissa Auf der Maur and filmmaker Tony Stone, Basilica Hudson makes its home in a spectacular solar-powered reclaimed 1880s industrial factory on the waterfront of the historic City of Hudson. Weekend destination events comprise the core of Basilica Hudson's music, performance, film, food and literary programming, alongside regular film screenings series, art exhibitions, and other community gatherings. The artistic program has taken shape thanks to many partners, collaborators, visiting artists, friends, adventurous audiences and community members.

Visit basilicahudson.org for more information on this and other upcoming events this season.