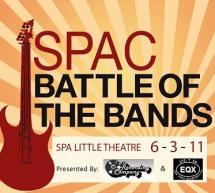 Local Bands Invited to Submit YouTube Auditions by April 24
Prize Package Includes Professionally Produced Music Video and EP; Airplay on WEQX
Saratoga Springs, N.Y.
- Saratoga Performing Arts Center's second annual Battle of the Bands, presented by WEQX and The Recording Company, will take place on Friday, June 3 at the Spa Little Theatre. Bands who would like to apply should submit YouTube video auditions and the online entry form by April 24 to
http://www.spac.org/
Ten bands will be selected as finalists to perform in front of a live audience and a panel of celebrity judges, including WEQX host Jason Irwin, for the chance to win a prize package valued at over $5,000. The package includes a professionally produced music video by Modern Mix Studios, professionally recorded EP at The Recording Company and airplay on northeast radio station WEQX.  "We are excited to bring this wildly popular event back to SPAC for our 2011 season. This is a tremendous opportunity for us to showcase the impressive talent in our region's music community and to engage new audiences in our season. Last year, approximately 7,000 people participated in some way, from the contestant bands, to the online voters, to the event audience. It was a great beginning to our season," said Marcia J. White, SPAC's President & Executive Director. "For the artists, Battle of the Bands represents an opportunity to stand on the same stage where music legends have performed. We are looking forward to seeing who will fill those shoes," she added. The top finishers of last year's Battle of the Bands were the classical-inspired rock band Vesper, which took first place, followed by hip hop-pop-soul group Mirk and the New Familiars and hard rockers Orchard. Details of the competition are as follows:
Contestants must submit a YouTube audition video and online entry form at spac.org by 11:59 p.m. EST Sunday, April 24
Wednesday, April 27 and Thursday, April 28, the public will have the opportunity to view the audition videos at spac.org and vote for their favorite band. The other nine finalists will be chosen by a SPAC selection committee. Ten finalists will be announced April 29.
The ten finalists will have 10 minutes to perform for a live audience and a panel of celebrity judges on June 3 at the Spa Little Theatre. The event is run "American Idol"-style with 3 celebrity judges rating the performance of each band following their time slot.
Bands will be evaluated and a winner chosen based on a formula that weights audience response at 60% and judges' evaluations at 40%.
Timeline:
April 24,
Deadline for bands to apply
April 27 and 28,
Public voting takes place
April 29,
SPAC announces finalists.
June 3, 6-10pm,
SPAC Battle of the Bands at the Spa Little Theater in Saratoga Spa State Park More information is available on SPAC's website at 
http://www.spac.org/
.
###
Contact:
Shane Williams-Ness, 518.584.9330 x 116 M:518.378.0295
shane@spac.org
   Lisa Hill, 518.584.9330 x 119 M:518.496.2882
lhill@spac.org
http://www.spac.org/