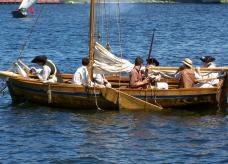 Ogdensburg, N.Y.
- Action, conflict, heroism - all the makings of a Hollywood adventure movie - were elements of the 1760 Battle of the Thousand Islands when the fate of the French Empire in North American was decided on the St. Lawrence River. July 16-18 Ogdensburg's Lighthouse Point is the site of New York's final 250
th
anniversary commemoration of the French and Indian War honoring the history of Fort de La Présentation, Fort Lévis and the Battle of the Thousand Islands. The re-enactment and colonial trade fair promises an inside look at our 18
th
-century history. The often boring pages schoolbook history will be turned into real life: Armed soldiers in red and blue uniforms; military encampments under white canvas; a dozen heritage boats lining the waterfront; more than 35 period merchants, artists, artisans, dancers, musicians and singers, and battles on land and water. Each afternoon, visitors to the Battle of the Thousand Islands will witness how the two-part battle unfolded; the August 16, 1760 capture of the French 10-gun corvette
L'Outaouaise
by armed British row galleys and the August 23-25, 1760 siege of Fort Lévis. Special guests are coming from Canada, France, the United Kingdom, New Zealand, Australia, and the US to join the celebration of our history. There will be one particularly special guest. Mark Valley, Ogdensburg native, Iraq War Veteran and Hollywood actor starring in Human Contact, plans to join the ranks of the re-enactors. Valley indicated he intends to fall in with the French re-enactors. Ogdensburg's first settlement was the French mission of La Présentation founded by Abbé François Picquet in 1759, almost 50 years before the arrival of American settlers. Until 1759, the countryside surrounding Fort de La Présentation was home to 3,000 Iroquois and their allies loyal to France. Warriors from La Présentation fought with the French army against the English in the Mohawk and Champlain Valleys. By 1758, the English gained the upper hand and construction of Fort Lévis began on Île Royal (Chimney Island) three miles down river from La Présentation. In March 1759 La Présentation was evacuated and the troops went to Fort Lévis to complete the works in hope a stronger fort would stop the English advance. An 11,000-strong Anglo-American army arrived in August 1760; only 350 French soldiers and Canadian militia at Lévis stood between them and Montreal. The Battle of the Thousand Islands was about to begin.
###
For information visit
http://www.fort1749.org/
or call the St. Lawrence County Chamber of Commerce at 1-877-228-78810.